Building a security budget can be challenging. They can take a lot of time, there are a lot of risks to consider and it's important to find a provider you can trust and build a strong relationship with. Then there's getting sign-off too with plenty of hurdles to overcome.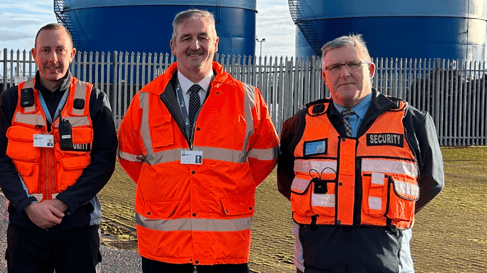 This article outlines the factors you need to consider when building your budget and identify what you need to do to ensure it gets sign-off.
What does a suitable budget look like?
The size of your budget depends on many factors and you can't decide this until you've identified and accounted for these considerations. Things such as the size of the company, the number of sites, type and size of sites, number of employees and the level of security you need should all be taken into account.
You should also constantly review your budget and adjust if necessary. In business, things change all the time, some of which may impact your security needs. So, you should always analyse changes, challenges, requirements and tweak your budget accordingly in case you ever need to scale up or down.
Where do you begin when building your security budget? We've outlined some of the critical considerations you need to think about to help get you started.
Key considerations
It's important to know that a lot of the below depends on your business, premises, number of employees and more. Here's where your focus needs to lie:
Evaluating risks
By its nature, security is there to help minimise and mitigate risks, which is why you'll be outlining this budget in the first place.
If you haven't already conducted a thorough risk assessment, now is the time to identify and evaluate the risks that may occur. It can be challenging to account for every eventuality but try and identify as many as possible based on your information.
How complex the risks are and the level of security they require will affect your budget. Whether you're an office, retail premises, site, factory or warehouse will also alter the figures. Outline as much information as possible to help you create as accurate a budget as possible.
At Kingdom Security, we offer a Risk and Mitigation service where we work with you to identify risks and changes in real-time and alter your security needs accordingly. Rest assured you'll always be in safe hands, no matter what comes up.
Evaluating asset value
The value of your assets will be one of the biggest factors to consider. Again, this depends on your business type and whether you have a lot of physical or high-value assets, such as machinery, stock and equipment.
It doesn't necessarily mean that the more assets you have, the more physical security you need. Instead, it'll help you identify what level and type of security is required, as well as helping you map out any risks.
Assessing the services required
Once you've determined your risks and assets, you can start to pinpoint what security services you need.
Whether it's security patrols and personnel, events and doors, a concierge service, CCTV, or a bespoke mix of multiple services, at Kingdom Security, we'll take out the guesswork and help you to decide what works best for you and your business. That means you'll only ever pay for what you actually need.
Researching providers and costs
It's now time to start researching providers and their costs so you can wrap up your budget ready for sign-off. Don't make the mistake of committing to the cheapest provider or the first one you come across. Security is serious, so you need to be absolutely sure you're partnering with the right security provider.
If you're still unsure of the level of security and the services you need after identifying your risks and assets, your chosen provider should help you map out a bespoke plan that works for you.
There's always the option of taking your security in-house, but it's essential to understand the pros and cons of insourcing vs outsourcing first, including staff training, liability, best practices and trust.
Determining ROI
As is often the case in business, you'll want to make sure the ROI is strong. This is something that will be particularly important when it comes to sign-off as the ROI is the figure needed to decide whether to approve something or not.
While it can be difficult to calculate the return on security investment, we have all the advice you need in this blog.
Getting sign-off on your budget
After you've scoped out your budget, identified the services you need and the provider you've chosen, it's time for that all-important sign-off.
It's essential to show you've taken all risks and considerations into account while aligning with the overall business goals — not just your own objectives. Senior leaders will want to ensure everything is suitably secure yet still fitting within the boundaries of a cost-effective budget.
Why Kingdom Security?
If you're looking for an established and experienced partner that's trusted by big names, then Kingdom Security is the provider for you. Whatever the size of your job, we're happy to help.
We're people-focused and passionate about delivering your security needs at the highest standard. We're always looking for new ways to do things that work for you, ensuring your business is always fully protected. Everything we do and offer is tailored to your sector, with full transparency so you're never left in the dark.
With our industry-leading experience, accreditations, next-generation equipment and innovation, we'll protect all of your assets to make yearly budget sign-off for physical security painless.