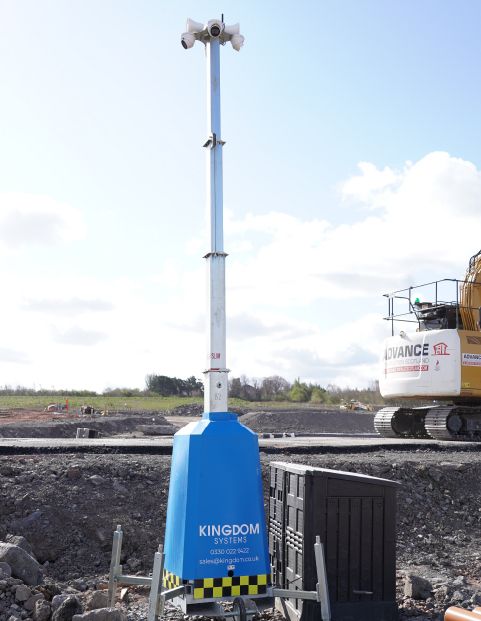 Looking for remote CCTV coverage?
Get AI CCTV towers at your location
AI CCTV towers stand at an impressive six metres tall, providing a robust, visible deterrent to protect your premises. Once installed, you can view both live and recorded footage from your smartphone or tablet.
They include:
4 HD Starlight Dome Cameras
360° coverage and 140 metre detection area
Two horn speakers with multidirectional audio to challenge intruders
You get a dedicated, remote team monitoring the footage and managing any interactions or incidents.
Meanwhile, you can access live and recorded footage via your smartphone or tablet.
These systems do not always require mains or permanent power, they're available in self-powered options. You can also explore customisable options including time-lapse, ANPR, thermal cameras, PT2 and heat/fire detection features.
With people monitoring your site?
You can get peace of mind
All of our systems are monitored by an NSI Gold accredited monitoring centre. Our experienced operators work from one of the most advanced facilities in the UK and work in tandem with our mobile response units.
This direct line of communication minimises our response times and ensures our units receive clear information.
Operating 24 hours a day, 7 days a week, 365 days of the year, you can rest assured our commercial CCTV systems and monitoring services will watch over your site and assets.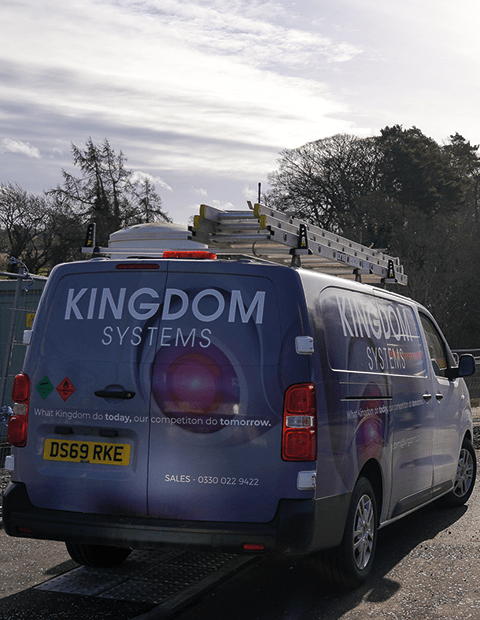 And a reliable response when needed?
Trust an SIA Licensed mobile response
In the event of a security system activation, your dedicated response team can spring into action.
Your SIA licensed response units will immediately attend and then:
Check the integrity of your site's security and conduct a full inspection. In the event of an emergency, our units will remain on-site and manage the situation.
Liaise with you directly and emergency services as and when necessary.
You'll receive a detailed report of the incident, including date, time and actions taken.
I'm very pleased with the performance of our system. It was only activated the once, however, the Mobile Response was very quick in determining that it was the building owners' operatives carrying out unplanned works. The written reports that followed were extremely detailed and professional. I would certainly promote the use of this system on all future projects."
Response
Our response units are highly qualified, trained and experienced. Working in tandem with our monitoring team and rapidly responding to any on site threat.
Bespoke Design
Our expert engineers will complete a site survey and design a bespoke CCTV security solution.
Trusted Supplier
Supplier and client relationships are paramount to us, from the outset you will be allocated a contract manager who will be your trusted supplier.
On average, UK construction site theft costs the industry around
£800 MILLION
a year.
Make sure you're not part of next year's figures.
WHY KINGDOM SYSTEMS?
Our core service offering
I have had the Kingdom CCTV systems on my current project since July last year and to date it has been a pleasant hassle-free experience. The system is designed well that it can easily installed almost anywhere onsite to meet the demands of our project. The service of the Kingdom management has been excellent from start to finish
"Firstly, on behalf of the management team here at Cruden Homes I would like to say a big thank you, for the thoroughly professional and pro-active manner in which you and your team managed all of our security arrangements over the difficult lockdown period. Not that I didn't expect anything else from you and your team based on your past performances, but I and our Board of Directors would like to pass our appreciation of the excellent service we received."
"Since partnering with Kingdom Systems, I have found their professionalism to be outstanding, and the support structure for me personally and Sunbelt rentals is second to none. I can only see this business partnership going from strength to strength."
SOLUTIONS FOR YOUR SECTOR
The complete temporary site security solution
Use Kingdom Systems and enjoy a service that significantly reduces your crime risk.