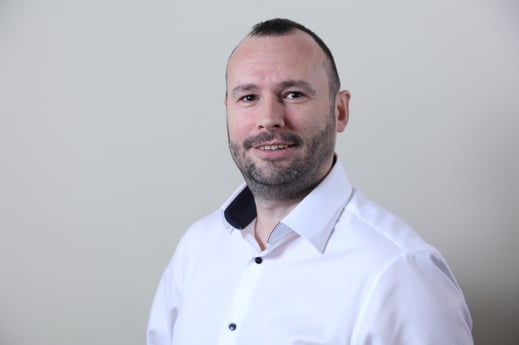 Kingdom Systems, part of Kingdom Group, has bolstered its senior leadership team with the appointment of Paul Worsley as Director of Service for Systems.
Kingdom Systems includes permanent and temporary CCTV, plus access control and fire and intruder alarm systems.
Paul boasts over two decades of sector experience within the fire and security field. Paul joins from one of the UK's leading providers in Fire and Security, HESIS, having previously worked at Director and Manager level at companies including Swift Fire & Security, Defense Security Systems and Kings Security Systems.
Joining Kingdom System's senior management team on 11th September, Paul will work alongside the Kingdom Systems team to bring best-in-class bespoke fire and security system outcomes for clients across all industry sectors, using multi-faceted system solutions, including understanding current and emerging threats, identifying assets that need protecting, as well as assessing risk and future planning.
As a results-driven director, with a strong background in systems operations, Paul is a strategic hire for Kingdom. Kingdom Group has continued to grow year on year for over 30 years and was recently awarded third place in the E2E Job Creation 100 list, which features the top 100 UK private companies that have created the most jobs.
Welcoming Paul to Kingdom Systems, Terry Barton CEO, said: "Kingdom Group is delighted to announce Paul Worsley's appointment to Director of Service for Systems.
"Paul brings with him a wealth of experience in the industry – his longstanding business expertise, along with his experience of the systems sector, is impressive and we welcome him on board.
Commenting on his appointment, Paul Worsley said: "Joining Kingdom at this time in their momentum of success is an exciting challenge and at the right time in my career.
"Providing a best-in-class service to clients across the board aligns with my own personal remit.
"I bring over 20 years of experience to Kingdom and my expertise and knowledge of the subject matter will help me achieve the growth aspirations few all have for Kingdom Systems.
"Over my career, I have worked with and learnt from some very talented people that have enhanced my knowledge, not just in services but also business acumen and work ethic and values to build a great team.
"I thrive in a fast paced and challenging work environment that also has a 'can do' attitude to develop quality and business excellence.
"I look forward to working closely with and being part of the Kingdom senior leadership team."