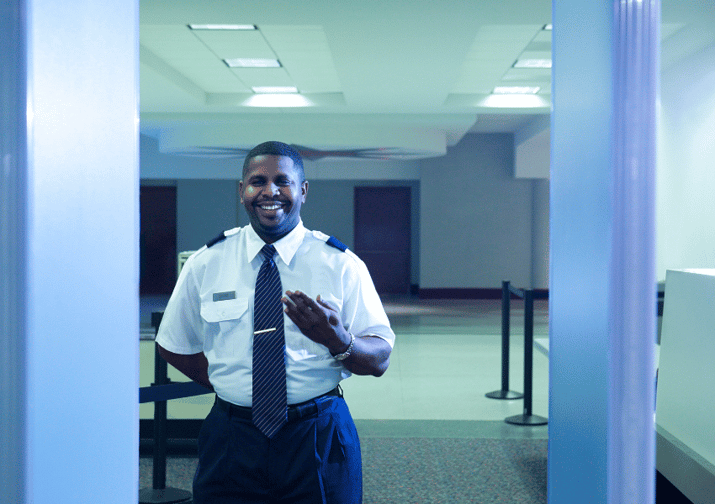 The primary responsibility of a security officer is to identify potential threats and take proportionate action to keep people or property safe from harm. In many situations, such as commercial buildings, security staff are also the first people that customers or visitors encounter, so it's important that your team conveys the right impression.
At Kingdom Security, we only recruit personnel who take pride in their work, as we know that this enhances the quality of the service that they provide. In this article, we'll explore the qualities of a good security officer and the benefits for businesses and customers.
How To Be A Good Security Officer: The Qualities To Look For
1. Professionalism
Security personnel are governed by professional standards, so it's vital that they maintain a professional demeanour in all situations, no matter how challenging or stressful. If security officers take pride in their work, they are more likely to consistently act professionally, which will help to resolve problems or diffuse potentially dangerous situations more quickly. For example, if faced by an aggressive individual, an officer will experience greater difficulty if they respond confrontationally, whereas a calm and focused approach will usually yield a less dangerous outcome.
2. Adaptability
Few situations that a security officer faces will be identical, as each scenario involves different people and challenges. Some situations will be easy to resolve but others will be more complex and require a broader range of strategies and interpersonal skills. A security officer must be adaptable to modify their response to changing circumstances. If they take pride in their work and consistently strive to achieve the highest standards, they are more likely to adapt their practice as each situation requires.
3. Communication
Security personnel communicate with a variety of people, including colleagues, law enforcement officials, and members of the public. When problems arise, they may face people who are angry, hostile, or distressed, so a comprehensive range of communication skills are essential to carry out their work effectively. Officers who take pride in work thrive on the opportunity to support the community and will employ a variety of skills to engage with people from contrasting backgrounds and cultures.
4. Attention To Detail
Being alert and attentive are crucial facets of effective security and threat detection. Officers must be able to quickly identify emerging problems, from an unaccompanied bag in a transport hub to an individual's unusual behaviour at a crowded public event. By taking pride in their work, security officers will be more likely to spot the smallest details that could suggest a more serious problem is emerging.
Is It Time To Review Your Security Arrangements?
For more information on how Kingdom can help your organisation's security arrangements and strengthen your protection, please click here to get in touch or call Kingdom Security today on 0330 022 9422.
Image Source: Canva