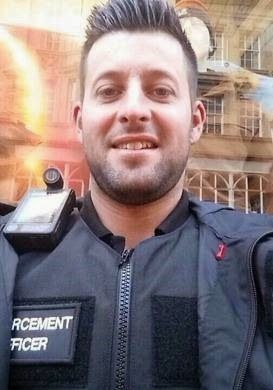 One of Kingdom's Environmental Protection officers in Birmingham, Daniel Hubbard, has been praised by West Midlands Police for helping to catch two men who had assaulted and robbed a man.
Daniel Hubbard works for Kingdom's Environmental Protection Division, providing Environmental Protection Services to Birmingham City Council. On Sunday 15th February, Daniel had just finished carrying out a joint patrol with city centre officers and was walking back to his car to go home when he saw three young men following an older man through the subway and acting suspiciously. Concerned, Daniel contacted Sergeant Dave Francis from the Birmingham City Centre Neighbourhood Team on his mobile, as he knew that he was on duty. Fortunately Sgt Francis was only a few streets away.
Daniel's suspicions proved to be correct, as the young men dragged the victim into the subway, robbed him and assaulted him on the floor, leaving him with a bleeding head injury. Daniel remained on the phone, pursuing the offenders on foot whilst giving commentary to Sgt Francis, who was able to direct officers to attend the area. Military police officers on a joint patrol were dispatched to locate and treat the victim in the subway, whilst police resources went after the offenders.
Because of Daniel's running commentary, the police were able to catch the offenders and arrest them for robbery. One was found in possession of cocaine, and another was found in possession of a knife.
Sergeant Francis subsequently submitted a report to his local police commander asking for Daniel to be recognised for his actions at the robbery incident. His reported concluded by saying:
"Mr Hubbard's keen and decisive public spirited actions helped to detain two offenders for a grave offence, PCSO Adams and PC Beard acted decisively in bringing dangerous offenders to justice especially considering the offender was armed. I ask that that PCSO Adams and PC Beard are commended and that Mr Hubbard is duly recognised for his public spirited actions".
Commenting on what happened, Michael Fisher, Director of Kingdom's Environmental Protection Division said: "Daniel is a key member of my team in Birmingham and is always mindful of what reciprocal help he can give our partners when deploying on Environmental Enforcement issues. I greatly appreciate Daniel's efforts on a daily basis and have recommended him for internal recognition from Kingdom for his actions that night. Daniel not only showed great tenacity and bravery but had the presence of mind to keep an open line of communication with West Midlands Police which I have no doubt led to the arrest of the offenders. We are extremely proud of his efforts on this occasion."
Kingdom has been providing environmental protection services to Birmingham City Council for over six years, tackling street litter and city centre enquiries, including graffiti, fly posting and smoking in prohibited areas. In November 2014 Kingdom was also awarded a new contract to provide Environmental Health Officers on behalf of Birmingham City Council to carry out a range of functions, including Duty of Care visits to food outlets including restaurants, cafes and kitchens.
Kingdom's Environmental Protection Division aims to make our streets cleaner, safer and greener. Led by experts with an ex-police and military background, Kingdom's specialist team delivers over 130,000 Environmental Protection hours per annum on behalf of local authorities around the UK. For more information about Kingdom's environmental protection division, please visit http://www.kingdom.co.uk/services/environmental-protection/ or call Kingdom on 0845 051 7702 for an immediate quote.