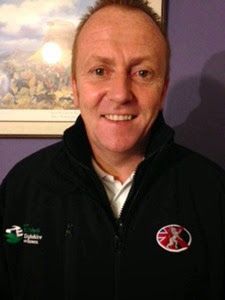 A new officer in Kingdom's Environmental Protection division recently successfully intervened in a potentially life threatening situation when he witnessed a young boy choking whilst he was out on patrol.
Nick Hughes only joined Kingdom on the 17th October this year as an Environmental Protection Officer based in Denbighshire. Upon joining the company he received training and an induction to allow him to patrol on behalf of Denbighshire County Council, enforcing the Environmental Protection Act and other identified legislation. Nick is an army veteran with an extensive career spanning 25 years which included providing close protection duties. Although he has only been with Kingdom a matter of weeks, his training and experience came to the fore when he was recently confronted with a very serious situation.
On Thursday 30th October at approximately 3.20pm, Nick was patrolling the high street in the centre of Rhyl in North Wales when he spotted a crowd of people gathering outside of McDonalds. At the centre of the gathering was a mother, father, grandmother and a 3 year old boy. The child was choking and turning blue, with frothy saliva coming from his mouth. His parents were understandably panicking and didn't know what to do, so Nick introduced himself to the boy's grandmother, explained that he could perform first aid and that he could help. The grandmother agreed and informed the child's parents who handed the child over to Nick.
Nick knew that the child was choking and went down on one knee to support the child's head with a cupped hand supporting his head and neck. He then put the child across his body, tapped his back and used his fingers to check for the blockage. He then put the child in an upright position and repeated a further two times. He constantly reassured the family by telling them what he was doing. He put his fingers into the boy's throat to try and pull the obstruction out, and although he could feel it he could not reach the obstruction. On the third time of tilting him and tapping his back a small piece of chicken nugget came out and the little boy must have then swallowed the rest. At that point the child started crying and asking for a drink, reaching for his juice. Nick advised the parents that their son's airway appeared to be clear, but he advised them to take him to A&E to have him checked over. Nick has since been stopped by a number of retailers who witnessed the incident and wished to thank him.
Michael Fisher, Head of Environmental Protection at Kingdom, said: "There can be no doubt at all that Nick's swift actions potentially saved a small child's life and certainly prevented serious injury. Nick's actions were in the finest traditions of a Kingdom Officer and also an officer providing such an important and at times onerous service to Denbighshire County Council. Nick is to be presented with a commendation and some vouchers as a reward from Kingdom at his site in Wales on Friday 14th November as recognition of his actions, and I would like to once again thank him for his actions that day."
Kingdom has been providing environmental protection services in Denbighshire on behalf of Denbighshire County Council since October 2012. This includes tackling street litter and dog fouling. Led by experts with an ex-police and military background, Kingdom's specialist environmental protection teams deliver over 130,000 environmental protection hours per year on behalf of local authorities up and down the country. For more information about Kingdom's Environmental Protection services, please visit http://www.kingdom.co.uk/services/environmental-protection/.