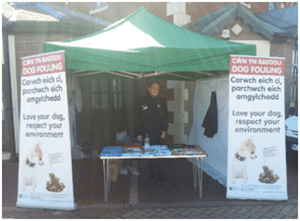 Kingdom's Environmental Protection team were pleased to have a presence at this year's Rhyl Air Show in Denbighshire, which took place over the last weekend of August. Kingdom has been providing environmental protection services in Denbighshire on behalf of Denbighshire County Council since October 2012.
Two officers, Jamie Lambert and Katrina Bamsey, were deployed on both days for five hours each day, working on behalf of the County Council. Their main role at the event was to educate, raise awareness and offer prevention advice to visitors and residents of Rhyl about the impact of environmental crime such as littering, dog fouling and cigarette related litter.
An amnesty on enforcement action took place as the officers offered advice to people and handing out a number of promotional and prevention items, including advice leaflets on worming pets and animal welfare, mouse mates, pens, coasters, dog bags, pocket ash trays and chewing gum savers. Over 250 people were spoken to and given items over the two days.
People at the event were made aware of the steps Denbighshire County Council are taking in making Rhyl a cleaner and greener place for the community and visitors. Nearly everyone spoken to saw the actions of the council as positive, and a large number of people visiting from other parts of England and Wales commented that they wish the council where they live would provide this service.
The annual cost of cleaning the UK's streets has been estimated at £780million. Kingdom's specialist environmental protection team is led by experts with an ex-police and military background who work to combat this by delivering over 130,000 environmental protection hours per year on behalf of local authorities up and down the country.
This includes tackling street litter, dog fouling and control orders, commercial and residential waste, waste disposal licence checks, smoking in prohibited areas, illegal distribution of free material, criminal damage, graffiti, fly-tipping and posting. For more information, click here to visit the Environmental Protection page on Kingdom's website.