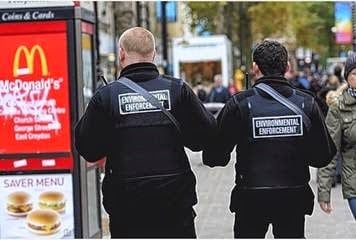 The environmental protection service that Kingdom provides to Canterbury City Council is to be expanded in three ways to cover a larger geographical period, to cover a longer time period and to have more powers.
Kingdom started providing Environmental Protection services on behalf of Canterbury City Council in May 2014, with a brief to tackle street litter in Canterbury city centre as part of a city council crackdown on litter. This was initially a six month pilot scheme, but it has now been extended until March next year, and as well as Canterbury itself, Kingdom will now also be patrolling Herne Bay and Whitstable. An article in the Canterbury Times entitled "Herne Bay litter bugs to be targeted by new patrols" reported that:
'Herne Bay can expect new patrols to crack down on the town's litter bugs, after the district's litter project was extended to cover the area.
'The scheme, which has seen staff from the Kingdom security company patrolling the streets of Canterbury city centre presenting on-the-spot fines for people who drop litter, has been running for almost a year.
'It is now planned to roll the scheme out to Herne Bay and Whitstable and extend it until March 31 next year.
'Speaking at a meeting of the council executive last Thursday, Councillor Rosemary Doyle said she was delighted" to have the chance to expand the project to the other towns covered by the council.
'"It really has made a difference here," she said.
'"We have had two litter awareness days, one in Canterbury and one in Herne Bay, and everyone who has come up to us has condemned people who drop litter.
'"It is very much in the public eye at the moment and anything that can help discourage or educate people about dropping litter in the street is a very good thing."
'Her words were echoed by retired Herne Bay GP Roger Wealdon, who volunteers for the Herne Bay Rotary Club's community and service committee.
Mr Wealdon said there were trouble spots in Herne Bay in need of closer scrutiny, particularly around the High Street and pier.
'"I can't see where there is a downside to extending the pilot, it's a good idea," he said. "We would be more than happy to assist as volunteers.
'"If what they did worked in Canterbury then it should equally work in this area."'
A separate article in The Canterbury Times entitled "Canterbury litter officers armed with extra powers to tackle city centre nuisance" explained that Kingdom's officers will be given new powers and why they are being given them. The article said:
'Wardens normally deployed to issue on the spot fines for littering will be armed with "a wider range" of powers to tackle disruption and antisocial behaviour in Canterbury city centre.
'The city council approved proposals to extend a pilot scheme first introduced last May, which saw officers working for the private security firm Kingdom given the power to issue on the spot £80 fines to anyone caught discarding litter.
'Speaking at a meeting of the council executive on Thursday, Councillor Andrew Cook said the scheme had proven "very successful" although more than 500 fines were yet to be paid.
'Councillor Cook said Kingdom officers were already helping deal with public nuisance issues, such as revellers urinating in the street on nights out.
'He added: "We are now dealing with an issue, a very repulsive issue, which has been in the city for a long time."
'The report given to the council executive on the issue noted that Kingdom staff could only deal with problems related to litter under their current remit, and that these general changes would make officers be "seen to be able to deal with all enforcement issues", alongside council staff.
Kingdom is delighted to have had their contract with Canterbury City Council extended, and to be providing more services to more areas. As well as Canterbury City Council, Kingdom also provides environmental protection services to four other councils in Kent, which are Tunbridge Wells Borough Council, Maidstone Borough Council, Swale Borough Council and Gravesham Borough Council.
Kingdom's Environmental Protection Division is led by experts with an ex-police and military background. Their specialist teams deliver over 130,000 Environmental Protection hours per annum on behalf of Local Authorities across the UK. They provide Environmental Enforcement by tackling street litter, dog fouling, commercial and residential waste, smoking in prohibited areas and the illegal distribution of free material. They also tackle other anti-social behaviour including criminal damage, graffiti and fly-tipping and posting. For more information about Kingdom's Environmental Protection Division, please visit http://www.kingdom.co.uk/services/environmental-protection/