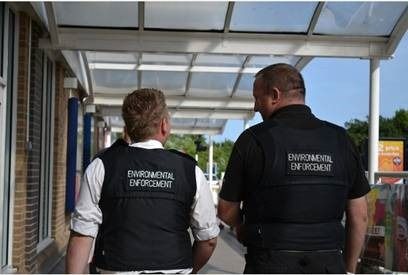 Kingdom started providing Environmental Protection services in Thanet on 1st June to tackle litter and dog fouling.
As an article in the Isle of Thanet Gazette, entitled "Litter cops to patrol isle streets" put it:
"A team of enforcement officers from private firm Kingdom will slap litter louts and those who don't clear up after their dogs with an £80 fine.
"Anyone who doesn't pay up will face a court case and possible conviction resulting in a hefty £2,500 in fines.
"The decision has been made by Thanet District Council which spends £1.2million a year cleaning the district's streets. The aim is to make Thanet a cleaner place to live in and to visit.
"As well as enforcing the law, under the Environmental Protection Act 1990, the scheme will also include incentives to encourage people to take responsibility for their litter or dog waste. The enforcement officers will randomly enter individuals they see binning their litter or cleaning up correctly after their dog into a monthly prize draw to win £50 of shopping vouchers."
Thanet District Council is the sixth council in Kent that Kingdom is providing Environmental Protection Services to. The others are Tunbridge Wells Borough Council, Maidstone Borough Council, Swale Borough Council, Canterbury City Council and Gravesham Borough Council.
Commenting on the new service, Thanet District Council's Director of Operation Services Gavin Waite said: "Littering is an antisocial activity which negatively impacts both residents and visitors to the district. This scheme aims to reduce the amount of litter and dog mess on the streets in response to residents' recent feedback. The council will be trialling this scheme for a year and hope to see a marked improvement in the cleanliness and appeal of public areas."
To find out more about the services Kingdom is providing to Thanet District Council, please visit http://thanet.gov.uk/your-services/pay-your-council-bills/dog-fouling-and-littering-fixed-penalty-notices/fixed-penalty-notices-frequently-asked-questions/
Kingdom's Environmental Protection Division is led by experts with an ex-police and military background. The specialist teams deliver over 130,000 Environmental Protection hours per annum on behalf of local authorities around the UK. For more information about Kingdom's Environmental Protection services, please visit http://www.kingdom.co.uk/services/environmental-protection/ or call Kingdom on 0845 051 7702 for an immediate quote.
The Director of Kingdom's Environmental Protection Division is Michael Fisher. To find out more about Michael, please click here.