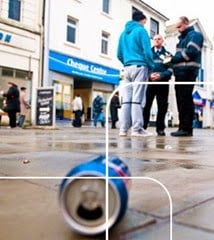 Kingdom is preparing to start tackling litter and dog fouling next week in Gravesend in Kent on behalf of Gravesham Borough Council.
Kingdom was awarded the contract at the end of last year to provide environmental protection services on behalf of the council, with the aim being to improve feelings of safety and wellbeing within the local environment and to address the concerns, enquiries and complaints that the council receives from residents regarding littering and dog fouling.
Kingdom already provides environmental protection services to three other Kent councils – Maidstone Borough Council, Tunbridge Wells Borough Council and Canterbury City Council. Gravesham Council decided to use Kingdom's services after visiting Maidstone to establish how the arrangement was working from the council's perspective and the impact that it has had in terms of street cleanliness.
Gravesham Borough Council have released a press release today entitled "Litter louts face £75 a throw", which explains what Kingdom's role will be in Gravesend. The article says:
"Litterbugs and irresponsible dog owners face on-the-spot £75 fines from next week in Gravesend as the council's Team G initiative moves into a new phase.
Gravesham Borough Council has hired enforcement contractor Kingdom to tackle litter and dog fouling across the borough for a 12-month trial. Anyone caught littering or allowing their dog to foul public places will be issued with a penalty notice. The council is the fourth local authority in Kent to use the company.
Their experience has led to cleaner streets. Last year the council launched its Team G initiative to clean up and maintain Gravesend town centre and intends to roll it out across the borough.
Uniformed Kingdom operators will be equipped with body-worn CCTV cameras. Anyone caught committing an offence will get a £75 fine on the spot.
The income from fines will pay for the service. Any surplus will go towards other anti-litter and environmental improvement schemes.
The new enforcement regime will be introduced during the week ending 7 February. Two officers will work flexibly between 6am and midnight.
It is proposed that the Enforcement Officers will start with issuing FPN's within the town centre but during the 12-month trial they will also visit some of the outlying shopping areas such as Perry Street and Lion Garage.
Council leader Cllr John Burden said: 'The council is committed to tidying up our town and our borough. Team G's introduction in November has already resulted in an improved level of cleanliness with officers from a number of departments working together to maintain public areas, smarten street furniture and empty bins.
'Now it is time to get tough with those who persist in dropping litter. They must be made to pay for the problem they cause and we aim to deter people from wantonly spoiling our streets. If we don't have to fine anyone it will mean that the message has got through. In the meantime litter louts be warned – your filthy habit is going to cost you £75 a throw.'"
Kingdom's Environmental Protection division is led by experts with an ex-police and military background and delivers over 130,000 Environmental Protection hours per annum on behalf of local authorities around the UK. For more information about Kingdom's environmental protection services, please visit http://www.kingdom.co.uk/services/environmental-protection/ or click here to read their online brochure.