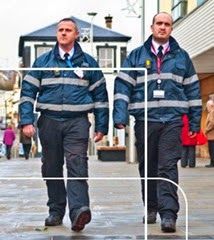 Kingdom started providing environmental protection services to tackle litter and dog fouling in Gravesend, Kent last week on behalf of Gravesham Borough Council, and is delighted to report that they are already starting to see fantastic results.
An article in the Kent Messenger on Friday 6th February entitled "More than £1000 of litter fines issued in the first two days of crackdown by Gravesham council" said:
"More than £1,000 of fines have been issued to litter bugs in the first few days of a council crackdown.
In the first two days of litter enforcement by Gravesham council's new contractors, Kingdom, 15 fines for a total of £1,125 have been issued.
Officers did not have to go far to issue the first fine on Wednesday morning. Within a few paces of the Civic Centre entrance they caught a woman discarding a cigarette end on Community Square – just yards from two bins with ashtrays. She was given a £75 fixed penalty notice.
Among the other fines so far was a man fined for spitting a seed onto the street and several other smokers were caught – even though there are many new ashtrays and bins in the town centre.
Gravesham council decided to get tough to combat the growing problem blighting the town.
The initiative will see two officers on a trial period patrolling five days a week.
When news of the scheme was announced last year, council leader Cllr John Burden warned people they faced on-the-spot penalties for dirtying the streets.
He said: "If people insist on not being good community citizens and throw rubbish on the ground they will pay a fine. It's as simple as that and we will take them to court."
The new litter cops have the power to fine people £75 for littering and dog fouling.
However, if the offender is under the age of 18 they will be let off the first time, with a letter sent to their parent or guardian.
The council is also considering leasing 28 solar-powered bins, which self-compact rubbish and send an email when they need emptying. That will be discussed by full council on Tuesday, February 24."
Kingdom was awarded the contract at the end of last year to provide environmental protection services on behalf of the council, with the aim being to improve feelings of safety and wellbeing within the local environment and to address the concerns, enquiries and complaints that the council receives from residents regarding littering and dog fouling. The council recently issued a press release announcing the clampdown.
Kingdom already provides environmental protection services to three other Kent councils – Maidstone Borough Council, Tunbridge Wells Borough Council and Canterbury City Council. Gravesham Council decided to use Kingdom's services after visiting Maidstone to establish how the arrangement was working from the council's perspective and the impact that it has had in terms of street cleanliness.
Kingdom's Environmental Protection division is led by experts with an ex-police and military background and delivers over 130,000 Environmental Protection hours per annum on behalf of local authorities around the UK. The annual cost of cleaning the UK streets has been estimated at £780m with around 14 million incidents of anti-social behaviour each year which equates to 26 incidents every minute. Kingdom combats this by issuing fixed penalty notices (FPNs) to offenders who are seen breaking the Environmental Protection Act 1990 in streets, parks and open spaces. For more information about Kingdom's environmental protection services, please visit http://www.kingdom.co.uk/services/environmental-protection/ or click here to read their online brochure.