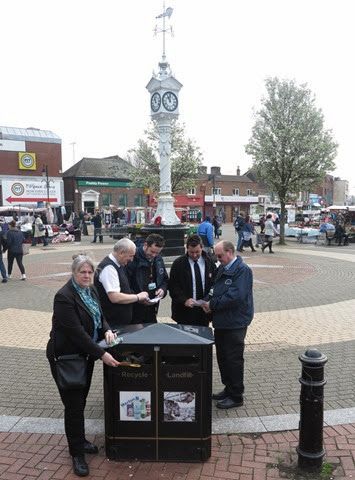 Merton Council has issued a press release announcing that "Merton Council is cracking down further on littering and joining forces with specialist environmental crime enforcers from Kingdom Environmental Protection Services. The council's own enforcement officers will work alongside the Kingdom enforcement team from the end of April as they go out and about around Merton to make sure the borough is kept litter-free".
Kingdom is delighted to be providing Environmental Protection services to Merton Council. Kingdom's priority will be tackling the issue of street litter in the London borough. This will involve issuing fixed penalty notices (FPNs) to offenders who are seen breaking the Environmental Protection Act 1990s in streets, parks and open spaces, with the aim being to make the borough cleaner, safer and greener, and to reduce anti-social behaviour. The initial focus will be the borough's busy town centres.
Commenting on the move, Merton Council cabinet member for environmental cleanliness Councillor Judy Saunders said: "Most of us are fed up with seeing people dropping litter on our streets. Every year we spend £5million cleaning our streets and our street cleansing teams are out around the clock, seven days a week picking up after the minority of people who throw their litter on the pavement. Working with Kingdom, we will be cracking down even more on littering and anyone caught dropping a cigarette butt, a sweet wrapper, or anything that should go into a bin, will be fined £75. It could be the most expensive cigarette or sweet they ever had."
Reacting to the news, Dan Goode of local anti-litter campaign group Merton Matters said: "We welcome the council's tough approach to littering. There is no excuse for dropping litter and if we can turn people away from littering and treat it as the stigma it really is, we'll all see a cleaner borough. Taking these tough measures should really make a difference."
Kingdom's Environmental Protection team is led by experts with an ex-police and military background. Kingdom's officers aim to be vigilant and discreet to strike the right public service balance. They deliver over 130,000 Environmental Protection hours per annum on behalf of Local Authorities across the UK. For more information about Kingdom's Environmental Protection services, please visit http://www.kingdom.co.uk/services/environmental-protection/
Photo: Cllr Judy Saunders on Mitcham Fair Green with litter enforcement officers.