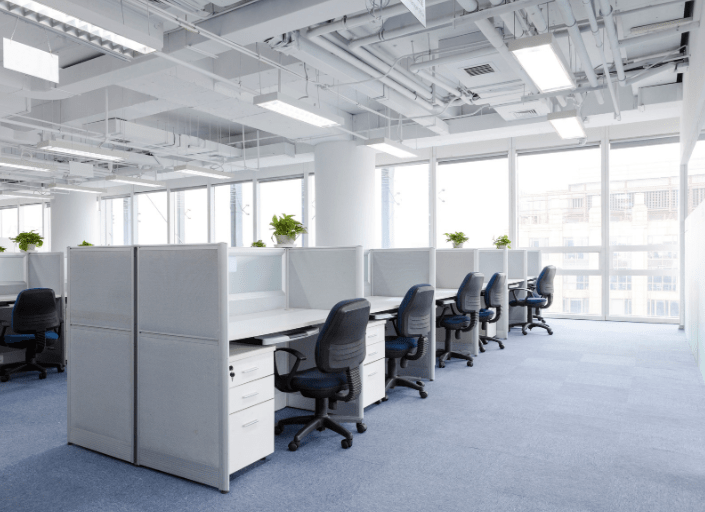 Frequent commercial office cleaning helps to keep the workspace clean, organised, and pleasant for staff and visitors. It also helps to reduce the prevalence of bacteria and viruses that can inflict illness on your team. It can also boost productivity, by eliminating the distractions that prevent staff from thinking clearly or creatively and improving their access to key resources.
Office cleaning solutions are a cost-effective and reliable way to keep your workspace in pristine condition and relieve your staff of the burden and inconvenience. However, it can be difficult to know how often you should arrange for your office to be cleaned. In this article, we will discuss the key factors to consider to help you come to a decision.
Regular Cleaning Vs Deep Cleaning: What's The Difference?
One of the most important factors to consider is the depth of cleaning that your office requires. Regular cleaning will ensure your workspace looks, feels and smells clean. Surfaces will be wiped, bins emptied, floors hoovered or swept, and kitchens and bathrooms cleaned and sanitised.
In contrast, office deep cleaning services go one step further, by targeting hidden or difficult-to-reach areas that may be overlooked during a regular clean. Dirt, dust, and bacteria are removed from shelves, windows, sills, light fixtures, ceiling fans, and air conditioning vent covers, while upholstery and carpets may also be shampooed and scrubbed.
Clearly, you are unlikely to arrange for a deep clean to take place regularly, as the aim is to eliminate dirt that accumulates over a long period.
As a rule of thumb, cleaning should take place:
At least once a week in office areas and staff rooms, and daily in busy areas. (If an illness is prevalent, more frequent cleaning will be necessary.)
Daily in bathrooms and kitchens, including the sanitisation of all surfaces, sanitaryware, taps, door handles, and floors.
Does The Size And Layout Of The Office Matter?
Yes, the frequency of cleaning depends on the size of the office, the layout of the workspace and the nature of the activities that take place there. A busy office with many staff members, clients, or visitors will need more regular cleaning to keep the workspace in optimum condition. A medium-sized office with 20 staff may need to be cleaned two or three times a week, whereas a larger office with 50 or 100 staff could benefit from daily cleaning.
Irrespective of the size of the office or the workforce, kitchens and bathrooms should be cleaned at the end of each day or in the early hours before the first member of staff arrives.
Should I Hire A Professional Cleaning Company To Clean My Office?
A specialist cleaning company, such as Kingdom, is dedicated to delivering the highest standard of service and is solely focused on ensuring that the workspace is as clean as possible. Highly trained and experienced cleaning staff can complete a regular or deep clean far more quickly without compromising on the depth or thoroughness of their work.
Contact Us To Find Out More
At Kingdom Cleaning, we will assess your office size and layout and provide expert advice about the desirable frequency of cleaning to keep your workspace in prime condition.
For more information, please call 0330 022 9422 or send us a message and one of the team will get back to you soon.
Image Source: Canva