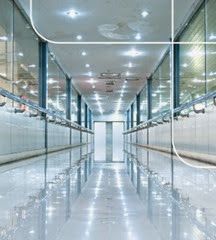 Kingdom Clean recently carried out a deep clean on an office complex prior to the new tenants moving in. This included the removal of the previous occupiers refuse, disposal of surplus cables and office equipment. Finally, Kingdom completed a sparkle clean, which is an in depth concentrated clean which includes floors, walls, fixtures and fittings.
Kingdom Clean was delighted to subsequently receive an email from the client's HR Manager saying:
"Just a quick mail to say thank you so much for the fantastic job you have done on the old office! I popped over there this evening to take a look and was extremely impressed! Please pass on my thanks to anyone who worked on the job."
Kingdom delivers supervisor or site-managed cleaning and maintenance services, including deep cleaning. Kingdom also offers basic, specialists and reactive cleaning to commercial, leisure, transport and public circulation clients. Other services offered by Kingdom includes waste management, janitorial service, hygiene supplies, landscaping, high pressure cleaning, kitchen and ductwork cleaning, graffitti and chewing gum removal.
Kingdom uses the best people, technologies and products to provide a leaner, smarter and more connected organisation to enhance businesses performance and provide them with results which they can measure and control. For more information about Kingdom's cleaning services, visit http://www.kingdom.co.uk/services/commercial-cleaning/ or click here to read their online brochure.