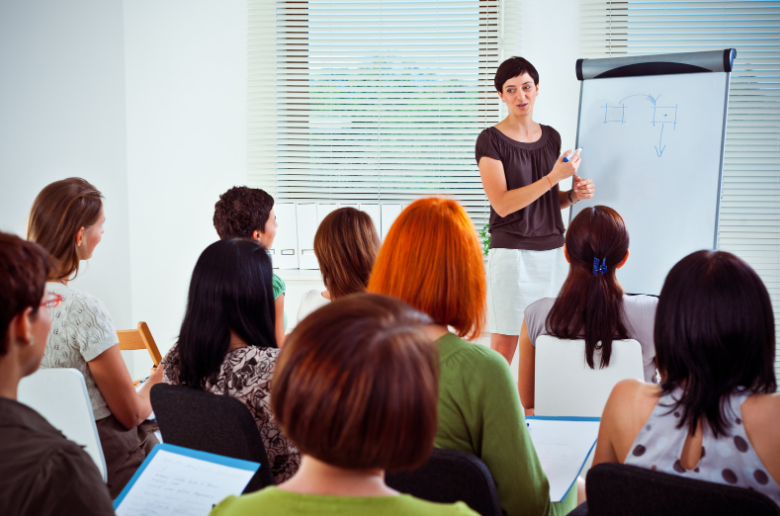 Workplace training solutions equip employees with new skills, enabling them to take on additional responsibilities or perform existing duties more adeptly. An ongoing programme of learning and development can make your business more resilient, attract new talent, and improve employee retention.
Bespoke Staff Training Solutions are designed to blend with the structure and priorities of your business, enabling your organisation to benefit in five important ways:
Customised To Your Business's Needs
Bespoke training courses are designed to address a small number of skills or subjects that have been highlighted by the business commissioning the training. Often, these areas are directly relevant to a specific area of operations that has been identified as requiring improvement and are designed to equip employees with the knowledge and skills to progress in this area. Whereas off-the-shelf courses cannot directly meet the needs of the organisation, a bespoke training programme will make the best use of the available time and will avoid generic skills or topics that do not need to be covered.
Time-Efficient
Shopping around for the right training solutions and provider can be time consuming for your team. Most courses will include elements that your staff don't need to cover – whereas a bespoke course will be designed around your business's priorities, so you can be confident that every aspect will be relevant to your team – optimising your training time for the best results.
Flexible
With bespoke training, it's not just the course content that is tailored to your needs. Most customised courses can be delivered at a time and place to suit you, including at your place of work to minimise disruption to your staff. By opting for a bespoke option, you can be confident that your business's operations won't be disrupted, increasing the value that the training programme adds to your organisation.
Engaging And Consistent
Bespoke staff training ensures that learning is engaging and consistent, so that all members of your team benefit equally. Training is more relevant to the organisation and its priorities, so colleagues will understand how they will personally benefit from their participation and make a greater contribution during delivery.
Enhanced Outcomes
Finally, because a customisable course is more applicable and relevant to the day-to-day circumstances and job roles of your trainees, participants will be able to play a more active role in their learning, leading to better outcomes and enhanced knowledge retention.
Contact Kingdom Training For More Information About Bespoke Training Solutions UK
Kingdom Training are an accredited independent training provider, offering an extensive range of flexible courses, training solutions, and apprenticeships for businesses across many sectors of commerce and industry.
To find out more about our bespoke training solutions, please call our friendly team today on 0330 022 9422 or send us an enquiry.
Image Source: Canva