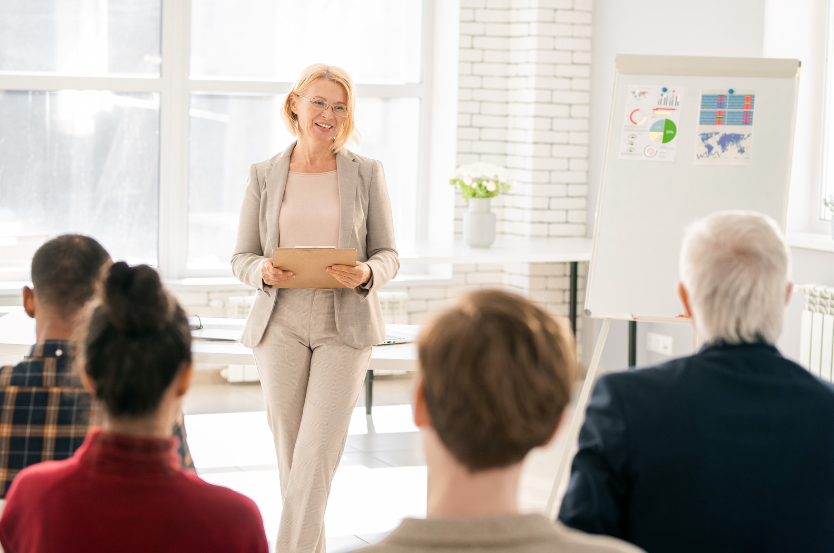 An employee training programme is designed to improve an employee's knowledge and skills as part of a long-term professional development plan, enabling them to discharge their duties more effectively and undertake new roles within the company. With a focus on enhancing employee performance, bespoke training will create a more robust, agile, or productive business culture that enables the company to perform more competitively in challenging climates.

Types Of Training Programmes For Employees
There are several broad types of training programmes that you can arrange for your staff:
1. Health And Safety Training
As an employer, you have a legal responsibility to keep your workforce safe, but arranging health and safety training isn't necessary simply to comply with the law: preventing accidents will also reduce absence rates, so your team will be able to work more productively with less disruption. Because health and safety is a specialist area, it's advisable to hire external experts who are au fait with the latest regulations rather than trying to deliver the training yourself.
2. Technical Skills
In roles that require a high degree of technical knowledge and understanding, it's vital that your team stays abreast of change. Technology is evolving rapidly, with new innovations emerging regularly, so staff must be kept abreast of developments to keep your business competitive and at the forefront of its field. Regular training will enable colleagues to enhance their technical skills and adapt their working practices to accommodate the latest tools and techniques.
3. Leadership Training
Leadership training ensures that both employees earmarked for seniority and existing managers and supervisors continue to develop their skillset so they can inspire the entire team to achieve higher levels of performance. By equipping leaders with the right knowledge and skills, leadership training will impact on the whole business by implementing strategies that encourage staff to work more quickly and skilfully.
4. Compliance Training
Industry regulations and laws are constantly evolving, so employees must be kept up to date with changes to ensure they carry out their duties correctly and avoid allegations of substandard conduct. Poor compliance can be damaging to a business's reputation, can increase risk to employees or service users, and may even result in fines or other sanctions. By arranging regular compliance training, you can ensure that your staff are informed of the latest changes and understand how to carry out their duties in a responsible and risk-free manner.
5. Customer Service
Customers are the lifeblood of any business, so implementing bespoke training to enhance the way your staff communicate with your clients will ensure your organisation earns a reputation for excellence. Customer service training can take many forms, including telephone communication or complaint handling, so choose the elements that your team needs to improve most.
Contact Us To Find Out More
At Kingdom Training, our independent team provides businesses in many sectors with bespoke training solutions that are designed to meet their unique needs in a cost-effective way.
To find out more, please call us today on 0330 022 9422.
Image Source: Canva