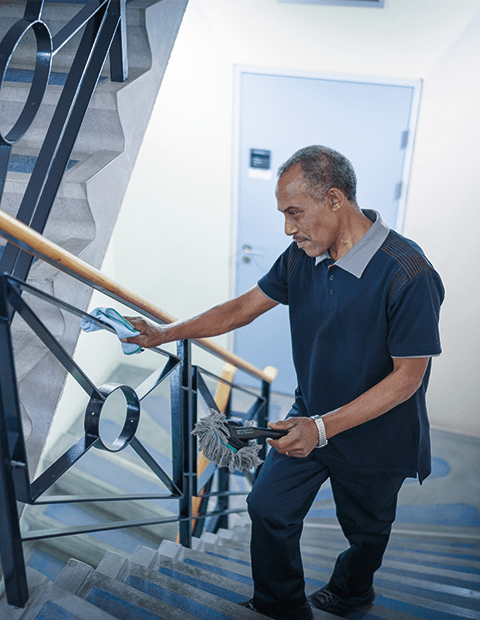 FIRST IMPRESSIONS COUNT
Make sure your office environment is set up for success
From when colleagues and guests first walk through the door, your environment is setting the tone for your business.
We understand it's not just about clean floors or dust-free desks. Your whole office environment reflects your business and promotes your brand and company values.
It sets the right tone for visitors and lets your staff do their best work.
And the people ensuring this happens should be fully in-tune with how your company operates. They should feel like they're part of your team. They should offer more than regular commercial cleaning services.
We work to your needs
First impressions count - we help set the tone for your business
Cleaners who work as part of YOUR team
A cleaning solution designed for you
Staff feel safer and work better
We help you achieve sustainability targets with carbon neutral cleaning
A cleaning team which is diverse and inclusive
We provide more than just the cleaning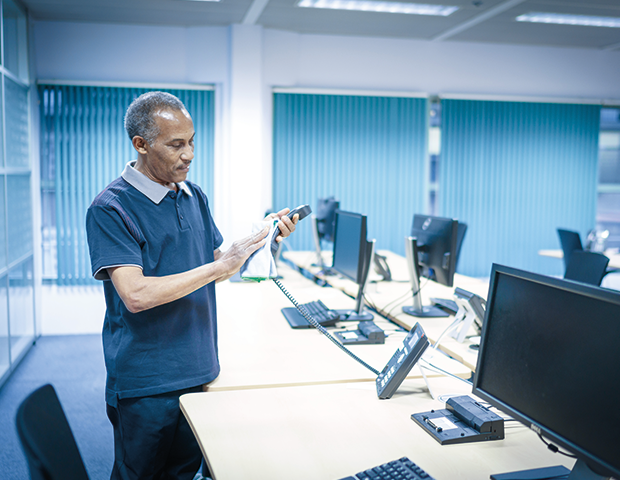 HOW TO DO THIS
Choose a cleaning provider who works to your needs
Whilst the challenges of cleaning commercial office spaces can be pretty similar on the whole, the particular needs of one space can vary from the next.
Even from floor to floor at the same company.
Different footfall and staffing patterns depending on the business unit or team in question. Or the fact one floor is customer-facing and needs a different routine than where the in-house-only team works.
Get cleaning peace of mind by working with a provider who knows how to find out these things - and deliver a cleaning solution designed to meet your particular needs.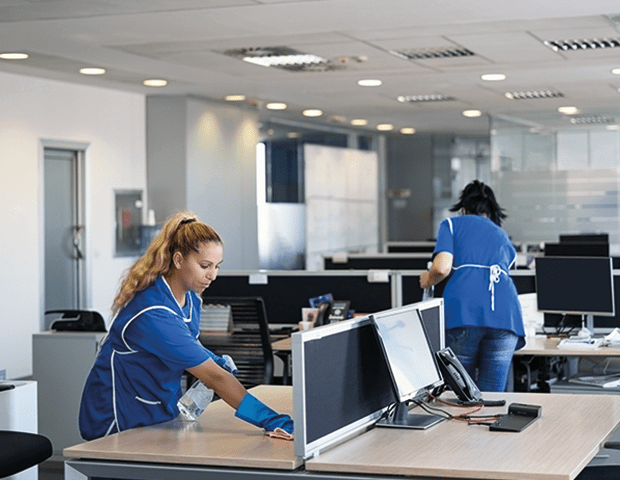 WHAT YOU NEED IS DIFFERENT
It's about more than just cleaning
We understand the pressures you're under. All the plates that need spinning when managing a facility as big as yours, you don't want it to all fall down due to something that feels simple: cleaning.
But what if we told you that the right cleaning provider could help in other areas too? Here's how:
Staff feel safer and work better. Innovative technology analyses surfaces and provides data that shows, at a microbe level, how clean your office is.
Help achieve sustainability targets. Kingdom Cleaning works in a carbon-neutral way - so your cleaning provider can contribute to your net zero aims.
Work with Diversity and Inclusivity. In line with your corporate responsibilities and desires, your Kingdom Cleaning professionals are from all walks of life.
Data-led Deployment
Footfall and staffing analysis means cleaning resource is targeted efficiently. This means no wasted spend but always cleaned when needed. Plus, with monitoring tools, you can even demonstrate how clean your office is at a microbe level.
Fully Compliant Cleaning Teams
From every staff member being DBS qualified to respecting NDAs for those who need them, commercial integrity is protected. True cleaning professionals also invest in their staff to work in a safe and compliant way.
Always Customer-Ready
Anyone in your building represents your business. A safe, busy office needs dedicated, professional cleaners who are trained in customer friendliness.
"Kingdom supply guarding for the retail store I work in. Recently, I have been working with the guarding team to support us within-store shrink and internal audits. The guards have been helpful and very supportive!"
"Kingdom have allowed us to maintain our core function during exceptionally challenging times. The quality of the service has been maintained, with no reduction in standards. Our marine management team appreciate the pragmatic and professional approach which the Kingdom colleagues bring to their roles. They always go above and beyond their job descriptions. The criticality of their customer facing role cannot be underestimated."
"Can you pass on my thanks to all the Kingdom team, they really do go above and beyond every time we have asked."