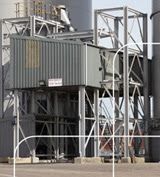 A new Manufacturing & Industrial sector has been launched on the Kingdom website as part of on-going rebranding and improvements.
Kingdom have also launched a new online Manufacturing & Industrial sector flipbook brochure to accompany the new webpage.
We offer bespoke security solutions for manufacturing plants. We have a dedicated manufacturing team which has extensive experience and an in-depth understanding to meet the special demands of the manufacturing sector, focusing on the criteria that matter most to our customers.
Kingdom support major manufacturing plants with best-in-class services delivered using the latest service modelling techniques and service delivery methodologies. Our services include security at the gatehouse of a site, weighbridge operations, vehicle control, Health & Safety and loss prevention. Some of our customers include Robert McBride, JTI Gallaher Ltd and Federal Mogul.
We have over 20 years experience in the security industry and are the largest privately owned security company in the UK. Our national support centre and regional support offices allows us to call upon a wealth of local and national management expertise.
To learn more about the services we offer, please click to visit the Kingdom website.