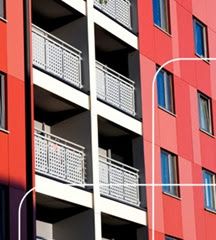 Kingdom has a dedicated social housing team that has extensive experience and an in-depth understanding to meet the special and sensitive safeguarding demands of the social housing sector, focusing on the criteria that matter most to our customers.
Our security teams strike a balance between a building that is welcoming yet secure, providing a safe place and safeguarding people, facilities and reputations.
Our officers embrace your demographics, culture and sensitive requirements. They complete enhanced vetting and are vigilant but discreet to assist social housing establishments strike the balance between a building that is welcoming yet secure.
Some of our customers include Home Group, Adullam Housing and Sanctuary Foyer.
To read more about our social housing services, please visit the newly launched page on our website by clicking here. We have also launched a new online brochure detailing our social housing sector services. Please click here to read about the social housing sector services we provide.
Kingdom has over 20 years experience. Established in 1993, we are now the largest privately owned company in the UK within our areas of service expertise. With a National Support Centre in St Helens and regional support offices across the UK, we have access to a wealth of local and national management expertise, allowing us to move faster and stay closer to your business. Local support is delivered through passionate people who provide our managers with the time to understand, manage and support your contract.
We hold all appropriate industry, safety and quality accreditations. We are an Industry Pacesetter, an Infologue Top 20 security provider, and an Accelerate 250 business. To find out more about Kingdom, please visit our website.