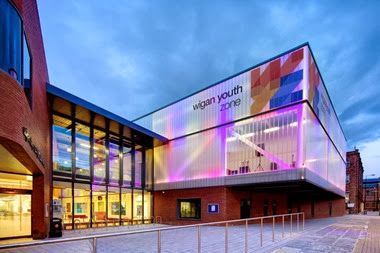 Kingdom is proud to have become a major sponsor of Wigan Youth Zone – the UK's largest youth club. Wigan Youth Zone aims to help young people aged 8 to 19 develop real and achievable aspirations for the future and to achieve their dreams. It is based in a prominent site in the heart of Wigan town centre, close to train and bus links.
Wigan Youth Zone aims to be accessible to young people by being open in the evenings, at weekends, and during the school holidays, 52 weeks a year – the times when young people need them most. They also aim to offer the best quality provision, be affordable to young people, be a welcoming and inclusive place for young people only to go and to provide role models to young people. They also aim to be sustainable by building strong partnerships between public and private sectors to ensure sustainability.
Wigan Youth Zone is a registered charity. They need to raise around £1.5million each year to make sure their doors stay open seven days a week, giving young people somewhere to go, something to do and someone to talk to. A minimum of £500,000 per year needs to come from the local private sector. They don't make any profit; they rely on volunteers, and aim to keep costs for their members as low as possible – currently just £5 for a year's membership, and then 50p per visit.
Kingdom is very proud to have committed to investing in this outstanding cause. There are four levels of patron – Founder, Gold, Silver and Bronze, and Kingdom is the highest level – Founder. Our sponsorship will be put towards everything from basics such as like lighting and heating to equipment, staff and ensuring the best quality provision for young people. As well as providing financial support, we are also helping and supporting Wigan Youth Zone in many other ways, including by being directly involved in fundraising, and by providing free community days to allow our people to go in and support Wigan Youth Zone, using their personal expertise where appropriate.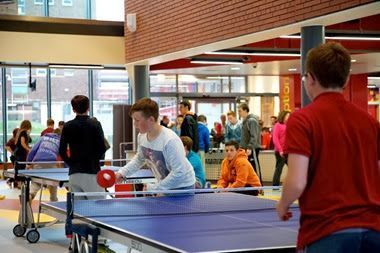 Wigan Youth Zone allows young people to get active and try something new. Every night of the week they have at least 20 different activities on offer, so there is always something for everyone to have a go at. Facilities available at Wigan Youth Zone include a full gym with state of the art equipment, a 10-metre indoor climbing wall, four good sized Astroturf pitches which can be used for a wide variety of sports, a sports hall, a welcoming recreation area which includes table tennis, table football, giant Jenga and pool tables, a skatepark, a dedicated girls room, a music studio, an art room, a dance studio, a fight club, and a cafe and tuck shop.
They also run trips, run the Duke of Edinburgh Award scheme, put on themed nights, challenges, quizzes and alternative games and activities, and run all kinds of activities to encourage enterprise and employability. They support young people with additional needs, and provide support to young people in areas such as drug awareness, sexual health, body image, bullying, domestic skills, relationships, domestic violence, smoking cessation and counselling around bereavement, self-harm and depression.
To find out more about Wigan Youth Zone and to see how you could support them, go to www.wiganyouthzone.org or call 01942 612061.
Kingdom's National Support Centre is based just 11 miles away from Wigan Youth Zone, in Eccleston, St Helens. Kingdom has a wealth of local and national management expertise, utilising their National Support Centre and regional support offices around the UK. They have over 20 years industry experience and have become the largest privately owned company in the UK within their areas of service expertise. To find out more about the services Kingdom offer, which includes security personnel, reception and concierge services, site managed commercial cleaning services, environmental protection, mobile patrol and key holding & alarm response services, please visit the Kingdom website.