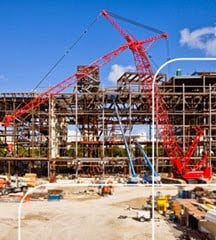 Kingdom has been selected to provide manned guarding services to the Cumbernauld Electrification project in North Lanarkshire, Scotland by Carillion Plc.
Carillion has been working on the £40million electrification of the 50km Cumbernauld – Glasgow Queen Street line since June 2013, having been awarded the contract by Network Rail in January 2013 as part of the first phase of electrification under the £650million Edinburgh-Glasgow Improvement Programme (EGIP). The project is part of an £80million investment in the Cumbernauld – Glasgow line.
Carillion is also lengthening platforms at Cumbernauld station and building new turn back facilities at Springburn. The project is scheduled to be completed in time for the 2014 Commonwealth Games in Glasgow in July, which Kingdom is also providing security for.
Kingdom carries out a large amount of manned guarding services for Carillion, and is currently providing security at seven other Carillion sites across Scotland, including supporting them on major work that they are carrying out on Scottish viaducts.
Established in 1993 to influence and inspire the security marketplace, Kingdom now has over 20 years industry experience and has become the largest privately owned national security company in the UK.
They have a dedicated civil engineering and construction security team which has extensive experience and an in-depth understanding of the construction sector. They specialise in the protection of people, property, plant and materials. They maintain an inventive but orderly approach to construction projects, offering a flexible range of services and solutions that make a difference, and focus on the criteria that matter most to their customers.
Kingdom utilise the best technology to support their customers and security teams to provide a leaner, smarter and more connected organisation. Kingdom supports their contracts with a National Support Centre, regional offices and a wealth of local and national management expertise. To find out more about Kingdom's civil engineering and construction services, please click visit their website, http://www.kingdom.co.uk/services/security-personnel/civil-engineering-construction/ or click here to view their online Civil Engineering and Construction Sector brochure.