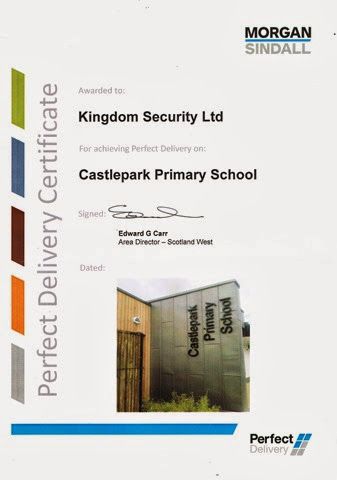 Kingdom was delighted to receive a letter and certificate from one of our clients, leading UK construction and regeneration company, Morgan Sindall Plc, praising our role and congratulating us on our performance in the Castlepark Primary School project which has been awarded Perfect Delivery.
Morgan Sindall was awarded the contract to extend and refurbish Castlepark Primary School in Irvine, Ayrshire, by North Ayrshire Council in December 2012. This included building a new nursery, dining hall and classrooms. Kingdom has been providing manned guarding services at the site in the evenings.
The letter from Morgan Sindall said "We are pleased to advise you that the above project has received Perfect Delivery. We are very grateful for your assistance and would like you to pass on our gratitude to the members of your staff who worked on this project. We look forward to working with you again in the future".
Kingdom specialises in the protection of people, property, plant and materials, having a dedicated civil engineering and construction team which has extensive experience and an in-depth understanding of the construction sector. We have over 20 years experience in the security industry, and are the largest privately owned security company in the UK. For more information about Kingdom's building and construction site security services, please visit our website, or click here to read our Civil Engineering & Construction Sector online brochure.