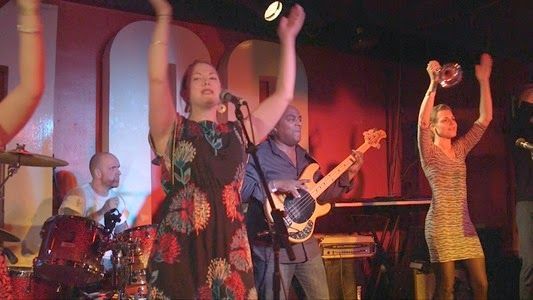 Mike Chappell, a security supervisor at Kingdom, recently took part in a Battle of the Bands competition as part of a team from the company he provides security for.
Freshfields Bruckhaus Deringer LLP (informally known as Freshfields) was established in 1743 and is a member of the 'Magic Circle' of leading British law firms. Headquartered in London, they have 28 offices in 17 jurisdictions across Asia, Europe, the Middle East and North America, employing over 2,500 legal advisors. They were awarded Global Law Firm of the Year in 2013.
Freshfields have many groups and clubs for their staff to join, including sports teams and a well established choir. Michela Salvati, a personal assistant within Freshfields who sings in the choir, recently had the idea of forming a rock band, and it only took a few emails for this band to be created. The band chose the name Fleet Street Mac, combining the iconic location of Freshfields, Fleet Street, with an iconic band, Fleetwood Mac. Mike, who has provided security at Freshfields for the last eight years, six of them as supervisor, plays drums in the eight person line-up, alongside seven Freshfields staff ranging from paralegals to partners.
For their first gig together, Fleet Street Mac decided to enter a competition called Law Rocks. Law Rocks is a series of live battle of the bands style rock concerts in which bands comprised of legal professionals battle it out on stage for charity. Having started in 2009 at one of the most celebrated and iconic live music venues in London, The 100 Club on Oxford Street, Law Rocks is spreading across the globe with events now in London, Boston, Chicago, Istanbul, Los Angeles, New York and San Francisco.
The winning band is determined by a combination of factors including the votes of a panel of judges. The net event proceeds are shared across all the charities being played for on the night, with the winning band's designated charity benefitting the most. The band came second on the night, a fantastic achievement considering it was their first gig together. The band had a fun evening at this legendary venue, and the money that they raised will be donated to St. Christopher's Hospice.
Commenting on taking part, Mike said: "I had played drums from the age of 12 to about 19 and I used to play in many bands as a teenager. I gave this up because of my security career and family commitments as I no longer had the time to pursue my musical ambitions. When this opportunity came up I was very keen to get involved although I was very nervous as I had not played drums or performed to anybody in almost 14 years!"
A video of their performance can be viewed on YouTube at http://www.youtube.com/watch?v=pwb5Keabod4 and more photos can be seen on Kingdom's Facebook page.
Kingdom is one of the largest privately owned national security companies in the UK, specialising in risk, loss and the protection of property, people and brand. To read more about Kingdom's security services, click here.