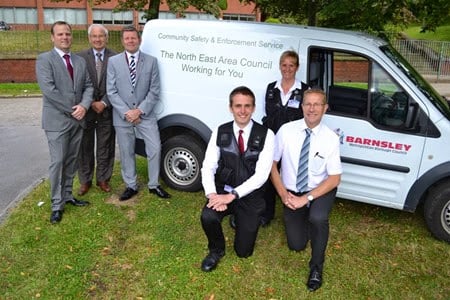 Kingdom was pleased to announce back in August that they had won four contracts to provide environmental protection services across Barnsley for 12 months, tackling litter and dog fouling across the south Yorkshire town on behalf of Barnsley Metropolitan Borough Council.
Kingdom will soon be increasing the services they provide to Barnsley Council, as Kingdom (in partnership with the council) have engaged the services of an approved supplier to train 14 Kingdom employees for the City & Guilds Parking Enforcement Officer (1950) qualification for civil enforcement officers who operate under the Traffic Management Act 2004.
The course started today (Monday 3rd November), and will run all week, finishing on Friday after the employees have sat the City & Guilds examination. Good luck to all of them! Having qualified staff will enable Kingdom to enforce traffic offences in Barnsley whilst continuing to deal with the issues of litter and dog fouling, which are a major concern for both residents and councillors alike.
Kingdom's environmental protection teams are led by experts with an ex-police and military background, and deliver over 130,000 environmental protection hours per year on behalf of local authorities across the UK. For more information about Kingdom's environmental protection services, please click here.