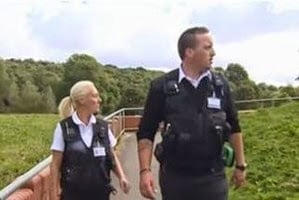 We recently announced that were are delighted to have won four contracts to provide Environmental Protection services across Barnsley for the next 12 months on behalf of Barnsley Council. We are tackling litter and dog fouling across the south Yorkshire town, providing one part-time officer and 12 full time-officers.
We were very pleased that ITV's Calendar News, which is ITV's local news programme for Yorkshire and Lincolnshire, ran an item on Kingdom's service on Monday 18th August. The item can be seen by clicking here. The 2 minute feature included interviews with local councillors, with one saying:
"Enough's enough. This litter and dog fouling has got to the top of the agenda as far as residents are concerned and for us then as councillors representing their views, so we must make a difference here."
Another councillor added on camera:
"We want to see our towns and our cities clean. We have visitors that come into our town, and the first thing they notice is litter on our streets and dog fouling."
Barnsley Council sought to bring in extra patrols after it emerged that it is costing the council £1.2million per year to keep their streets and public spaces clean. Our services will both save the council money and create cleaner streets.
Our officers are attached to the council's Community Safety Team and are working alongside the local Safer Neighbourhood Teams. They wear the uniform of the Community Safety and Enforcement Team, but will also wear 'plain clothes' at times. They wear body cameras while on duty, so that all environmental protection activity can be monitored.
The ITV Calendar News item also followed two of our officers around Barnsley, explained what will happen if you drop litter, and demonstrated and explained the role of the body cameras. It added that after just one week in operation 50 fines has been issued, and concluded saying the message to offenders is clean up your act or pay the penalty.
The item on ITV's calendar news follows a positive front page news story in the Barnsley Chronicle on Friday 15th August.
Kingdom's Environmental Protection teams deliver over 130,000 Environmental Protection hours each year on behalf of local authorities like Barnsley Council. For more information about our Environmental Protection services, click here to visit the Environmental Protection section of the Kingdom website, or here to download our online Environmental Protection brochure.