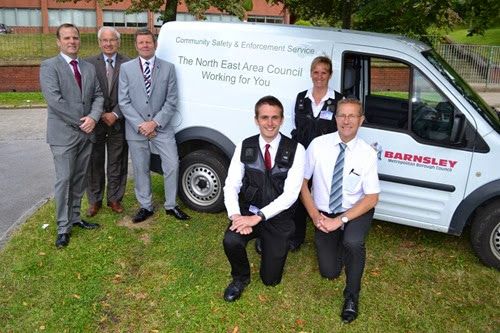 Kingdom is delighted to be providing Environmental Protection services in Barnsley for the next 12 months.
Barnsley Metropolitan Borough Council sought to bring in extra patrols to tackle litter and dog fouling after it emerged that it costs them £1.2million per year to clean it up. They divided the area they cover into four quadrants and invited companies to apply to carry out environmental protection services.
Kingdom was delighted to win all four contracts, and will be tackling litter, dog fouling and parking enforcement on behalf of Barnsley Council for the next 12 months, providing one part-time and 12 full-time officers. The patrols started on Monday 11th August and are taking place in the central, Dearne, north, north east and south wards.
Kingdom's officers will be attached to the council's Community Safety Team and will work alongside the local Safer Neighbourhood Teams. They will wear the uniform of the Community Safety and Enforcement Team, but will also wear 'plain clothes' at times. They will wear body cameras while on duty, so that all environmental protection activity can be monitored.
The photograph shows Kingdom's Steven Gillespie (left), Environmental Officers James Lovatt (third from right) and Maria Broxup (second from right) and Team Leader James Packer (right) meeting with Barnsley councillors on the 12th August.
Kingdom's Environmental Protection teams are led by experts with an ex-police and military background, and deliver over 130,000 environmental protection hours per year on behalf of local authorities across the UK. For more information about Kingdom's environmental protection services for local authorities, click here to visit their website, or here to download their online brochure.