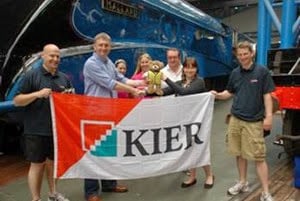 Kingdom has been pleased to support one of our client's recent fundraising efforts.
Kingdom provides both static and mobile patrol officers to Kier Mining at Greenburn Surface Mine in Ayrshire, which is part of Kier Infrastructure. Kingdom's security team have been providing vital on the ground asset protection services to this client since 2008.
Each financial year the Kier Group Board challenges each Kier business to raise £10,000 for the Kier Foundation, an independently registered charity which was established by the board in November 2011. The charity supports, raises money for and offers practical assistance to Kier Group's charity partner, Macmillan Cancer Support, and other charitable causes and community projects close to their employees and the communities their businesses operate in. To find out more about the Kier Foundation, please click here.
This year the Kier businesses have been challenged to travel 1,000 miles across their UK sites using only 'green' non-motorised transportation in the 'Integrating Infrastructure' UK relay. This can include cycling, swimming, running, rowing or something more adventurous. Their employees are transporting their mascot Kier Bear as a baton in relay across their sites ranging from Greenburn to their head office in Tempsford in a fundraising exercise designed to bring all their teams together across the UK by giving them a common purpose. Each site has been asked to raise a minimum of £500, making their total fundraising target £10,000.
The event is taking place between the 1st July and 25th September. The Greenburn team made an excellent start to the campaign, smashing the original £500 target by raising over £6800 so far. They completed the 200 mile journey from Greenburn to the National Railway Museum at York in four days with their 3 P's challenge (perambulate, pedalling and paddling). You can still donate to the fundraising efforts until 31st October by going to https://mydonate.bt.com/fundraisers/kiermining
Kingdom is a dedicated and experienced national security supplier, specialising in risk, loss and the protection of property, people and brand. Established in 1993 to influence and inspire the security marketplace, Kingdom has become one of the largest privately owned national security companies in the UK. Kingdom utilises the best technology and has a wealth of local and national management experience. For more information about Kingdom, please visit http://www.kingdom.co.uk/.