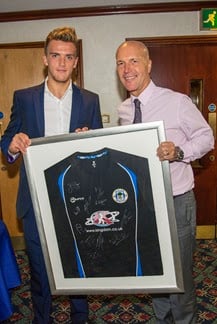 Kingdom, one of the UK's leading support services companies, has announced a major partnership with Wigan Athletic, becoming the Championship club's first ever training kit sponsor.
The Kingdom logo will appear on all of the first team training apparel during the course of the season, as well as on interview backdrops and across various other media. The partnership sees the development of a relationship between the Club and Kingdom which dates back many years, thanks to Kingdom Managing Director Terry Barton (pictured right with one of Wigan's new players, Emyr Huws) being a lifelong Latics fan.
Kingdom, which was established in 1993, offers a variety of services, including security, mobile patrol, commercial cleaning, alarm response and environmental protection.
Terry Barton, said: "I have personally supported the Latics for nearly 40 years and have witnessed the dramatic rise from very humble beginnings to the stature of the Club as it is now. My company has followed a similar path, and is now a large national service provider. I am delighted Kingdom can put its name on the kit of such a great success story. "
Wigan Athletic Head of Commercial, Ian Laithwaite, said: "We are delighted to welcome Kingdom on board for what we hope will be a successful and memorable season. Terry and Kingdom have enjoyed a long history with the Club so it is especially pleasing to be able to strengthen those ties with the business."
For more information on Kingdom, please visit www.kingdom.co.uk