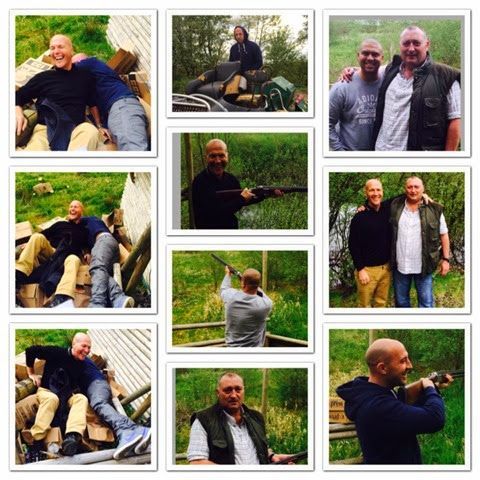 Four members of Kingdom's management team recently took part in a fundraising event to raise money for Wigan Youth Zone.
Kingdom's MD Terry Barton, Head of Service (North) Sam Appleyard, Head of Mobile Lee Sinclair, and Head of Development Delroy McGee, formed a team of four to compete in a clay pigeon shooting competition on Friday 2nd May in Wigan.
20 local businesses took part in the fundraising event, with Kingdom's team finishing a respectable 5th overall. Slow starter Sam Appleyard was the highest scorer.
A great day was had by all with plenty of money raised for this very worthy cause, some of which will have to be used to replace the chair that Messrs Barton and Sinclair broke!
Kingdom is a major sponsor of Wigan Youth Zone, which is the UK's largest youth club. Based in the heart of Wigan town centre, it aims to help young people aged 8 to 19 develop real and achievable aspirations for the future and to achieve their dreams. Each night of the week they have at least 20 different activities on offer, allowing young people to get active and try something new.
Wigan Youth Zone needs to raise around £1.5million each year to make sure that it remains accessible to young people by being open when they need it most - in the evenings, at weekends and during the school holidays, 52 weeks a year, giving them somewhere to go, something to do and someone to talk to.
A minimum of £500,000 each year needs to come from the local private sector, contributing towards everything from basics such as like lighting and heating to equipment, staff and ensuring the best quality provision for young people. As well as providing financial support, Kingdom also help and support Wigan Youth Zone in many other ways, including by being directly involved in fundraising, and by providing free community days to allow personnel to go in and support Wigan Youth Zone, using their personal expertise where appropriate.
To find out more about Wigan Youth Zone, what Kingdom are doing to support them and how you can help them too, click here to read Kingdom's blog post from back in March.
Based just 11 miles away from Wigan Youth Zone in Eccleston, St Helens, Kingdom is the largest privately owned company in the UK within their areas of service expertise, with over 20 years experience. Click here to visit Kingdom's website for more information.