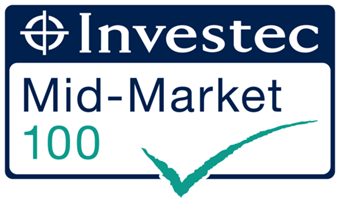 Kingdom is delighted to announce that they have been named as one of the 100 fastest-growing private companies in the UK.
Kingdom has been included in the Investec Mid-Market 100 list of fastest growing UK companies. The results of the inaugural Investec Mid-Market 100 were announced at the Investec Mid-Market Summit at the Corinthia Hotel in London on the 28th November, and published in The Times. The full list of 100 companies can be viewed at www.investec.co.uk/midmarket100.
The Investec Mid-Market 100 is part of an exciting new programme, developed in conjunction with data specialists, DueDil and The Times, to showcase the strength and importance of Britain's mid-market. The "high performing, innovative, medium-sized companies" on the list were described by Investec as "innovators, bedrocks of local communities, employers, and are building brands that will become household names". They went on to say: "The owners of these 100 businesses invest in the long term. They do not allow themselves to be distracted by quarterly results and share-price fluctuations; they are reliable employers and therefore provide the foundation of the British economy."
Kingdom was established in 1993 and operates nationally. Commercial and service strength supported with organic and acquisition growth has seen Kingdom become one of the largest privately owned companies in the UK within their areas of service expertise. They have a strategy to continually grow and strengthen by expanding their services and offering a complete support service to their customers. Kingdom's services include security personnel, reception and concierge, commercial cleaning, mobile patrol, key holding & response, environmental protection and their intelligence division. To find out more about Kingdom, please visit www.kingdom.co.uk.