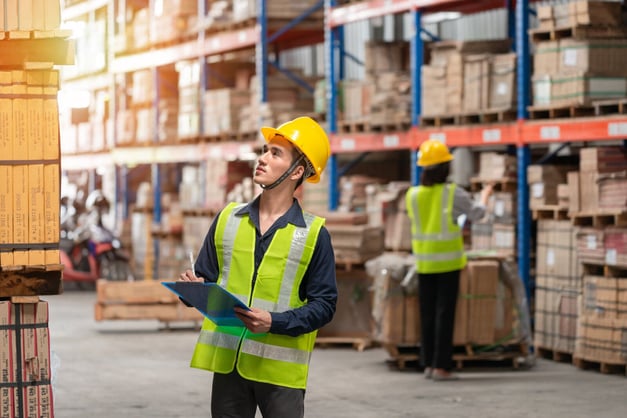 Warehouse operatives are in high demand as the ecommerce sector enjoys a sustained period of growth, fuelled by changing consumer habits and greater choice through digital sales channels. Becoming a warehouse operative is a sound career choice, offering the chance to work in a fast-paced environment, with plenty of scope for progression and rewards.
In this article, we'll explore how you could become a warehouse operative and improve your chances of finding your ideal role.
What Is A Warehouse Operative?
A warehouse operative is responsible for handling products and goods in a warehouse, for packaging items ready for shipping, and receiving goods (including returns) and storing them correctly to prevent damage or loss. Warehouse operatives play a crucial role in enabling their business to meet delivery times and achieve high levels of customer satisfaction, as well as solving problems quickly to prevent delays from building up in the supply chain.
Key Steps To Becoming A Warehouse Operative
So, how can you prepare to become a warehouse operative?
Qualifications
There are no formal qualifications required to become a warehouse operative, but GCSEs in English, maths, and computing will lay strong foundations for your role. Equally, the ability to communicate with and listen to others will demonstrate your ability to work collaboratively with colleagues.
Personal Qualities
A warehouse operative role can be physically demanding – you'll spend large amounts of time on your feet moving goods– so a good level of physical fitness and strength will be beneficial. (Remember that equipment will be provided to help you to move heavier or bulky goods.) You'll need to be focused on getting the job done, working to tight deadlines, and committed to following health and safety guidelines carefully.
Previous Experience
Prior experience is not always necessary as full warehouse training will often be provided. However, a warehousing apprenticeship is an invaluable way to prepare for the demands of the job and acquire the necessary knowledge and skills, as this will provide you will real-life experience of the role.
Participating in a warehouse operative training course can also place you ahead of others applying to the same positions. There are many training programmes available which will provide you with on-the-job training and enable you to apply for specific roles. Obtaining a certification, for example to drive and operate forklift trucks, will also give your application a boost and make you more desirable to employers.
Contact Kingdom For Warehouse Operative Training Courses
At Kingdom, our Kingdom Training provides independent, high-quality training for warehouse operatives to prepare them for the challenges and responsibilities of the role.
To find out more, please contact us today on 0330 022 9422.
Image source: Canva