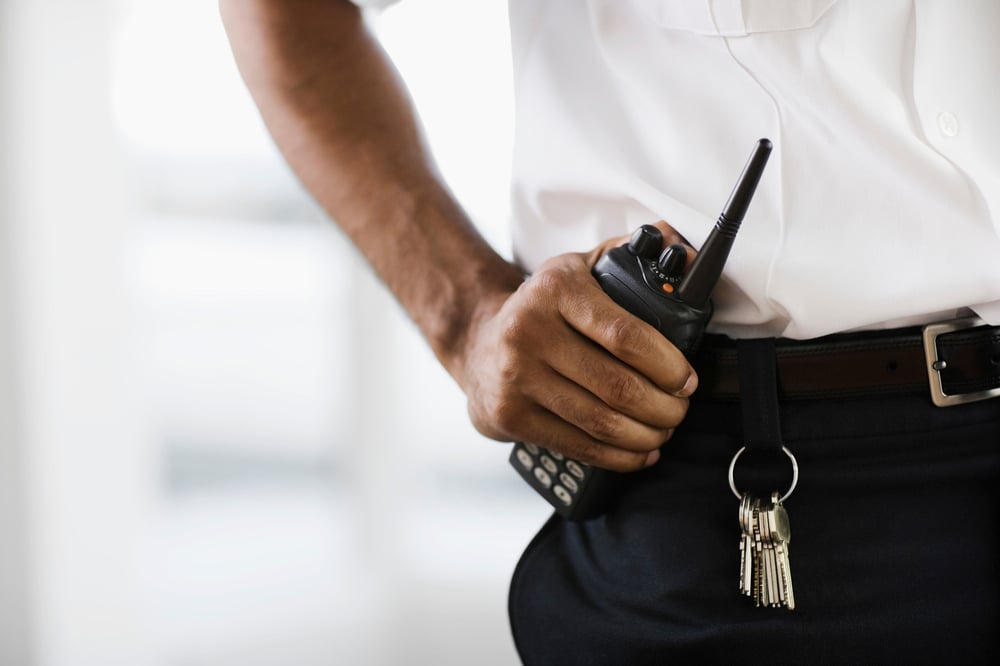 Intruder alarms play a vital role in deterring criminals from entering a property and alerting staff when an illegal entry is made, but most break-ins occur when the premises are closed, at night or over the weekend. In this case, as the site or security manager, or the business owner, you'll be required to attend in-person to turn off the alarm and ensure the premises are secure, a responsibility that may be inconvenient or even dangerous.
Key holding services eliminate the need for you to personally attend every incident and provide you with the reassurance that a professional security team is on-hand to ensure your premises and assets are safe, at any time of day or night.
What Is Key Holding?
Many businesses maintain a list of key holders – members of staff who possess a set of keys to the premises. If the intruder alarms are monitored remotely by a security company, one of the key holders will be contacted should the alarms be triggered, even in the middle of the night.
At Kingdom, we offer a nationwide keyholding service, whereby our experienced and trained security personnel retain an additional set of keys to your business premises, so we can respond quickly to any unexpected issues, instead of your own staff being called out.
Why entrust your business's keys to Kingdom?
Peace Of Mind
When you're not at work, it can be difficult not to worry about the safety of your business's assets. With over 600,000 crimes committed against businesses in England and Wales each year, the need for robust security has never been greater. Knowing that a specialist security company is ready to respond to any threat to your property, you can be reassured that your business is in safe hands.
A Safer Solution
Attending a callout in the middle of the night potentially puts you or your staff in danger if criminals are on your business's premises. Most people would be understandably reluctant to put themselves in danger, yet the police have limited resources and cannot attend every time an intruder alarm is triggered. Our security staff are highly trained and proactive, and their visible presence will deter criminals from targeting your business.
Convenience
Our keyholding service is available at any time of day or night so, whether your premises are unmanned after working hours, as part of a hybrid work pattern, or for an extended period to allow your team to enjoy a much-needed holiday, you can be confident that your property is securely looked after.
Reduced Liability
By using Kingdom's keyholding service, you can reduce your liability if a break-in or other security incident occurs, as our security staff are thoroughly trained and insured. Because criminals are less likely to target your business, you may also benefit from lower insurance premiums.
Compliance
The security industry is heavily regulated but there are still some unprofessional and untrustworthy service providers. Compliant to BS 7984 (Keyholding & Response Services), Kingdom Security meets all recommendations and guidance to deliver high-quality service, giving our clients absolute confidence in our integrity and honesty.
Contact Us To Find Out More
If you would like to improve your site security and identify the risks to your business, please click here to get in touch or call our knowledgeable team on 0330 022 9422.
Image Source: Canva