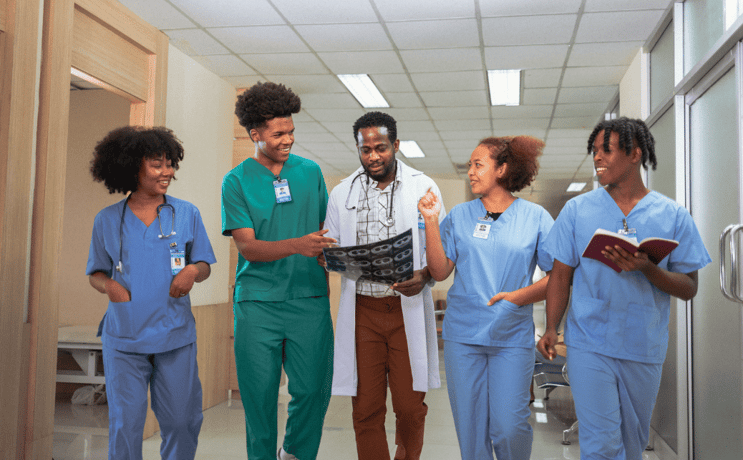 As the demand for NHS services has soared in recent years, many organisations are experiencing a pressing need for reliable and skilled professionals. Hospitals in the UK are increasingly turning to specialist healthcare recruitment agencies to source experienced workers who are ready to commence their duties as soon as required, allowing managers to focus on achieving consistent quality and continuity of care.
So, what are the benefits of having temporary staff readily available to commence work in your healthcare organisation?
The Ability To Quickly Expand Your Workforce
Healthcare can be a fluid industry. Sudden surges in patient numbers can put tried-and-tested systems under pressure, resulting in lengthy waiting times and backlogs. Temporary healthcare staff enable care providers to quickly scale up their workforce as soon as demand begins to increase, for example at the start of the winter when patient numbers are traditionally higher, without the need to offer long-term contracts of employment. This agility ensures that the required workforce is promptly in place, minimising the impact on patient care and maintaining operational efficiency.
Streamlined Hiring And Onboarding
Unlike permanent recruits, temporary healthcare staff can be fast-tracked through the hiring process, so they're ready to commence work as soon as your organisation needs. This level of flexibility makes temporary recruitment a more cost-effective solution as hiring short-term staff often involves fewer steps and less paperwork. This accelerated process allows facilities to promptly address staffing gaps and ensure seamless continuity of care for patients and, because employment history, qualifications, and references will have been thoroughly checked, you won't need to worry that you're opting for second best.
Reduced Pressure To Recruit Permanent Staff
Because temporary healthcare staff can be quickly sourced and released as soon as they are no longer needed, there is less pressure on employers to hire permanent employees. While it's important that healthcare providers have the workforce to meet fluctuations in patient demand, it's important that, in quieter periods, they don't have surplus staff who drain already hard-pressed budgets. If surges in demand can be anticipated, healthcare providers can take time to thoroughly assess candidates, conduct interviews, and perform background checks, eliminating the urgency to fill positions. Consequently, the recruitment process is more meticulous and results in only the most suitable and experienced staff being hired.
Control Costs While Optimising Workforce Efficiency
Hiring temporary healthcare staff offers important cost control benefits. Instead of increasing the permanent workforce, healthcare organisations can add temporary staff as needed to meet fluctuations in patient demand. This flexibility allows organisations to optimise staffing levels without incurring the long-term costs associated with recruiting permanent employees. When faced with sudden surges in patient numbers, temporary staff can provide cover efficiently and cost-effectively.
Contact Kingdom To Find Out More
To find out more about our healthcare recruitment services and how we can help you to have the experienced staff your patients need, please call Kingdom today on 0330 912 0092 or send us an enquiry.
Image source: Canva