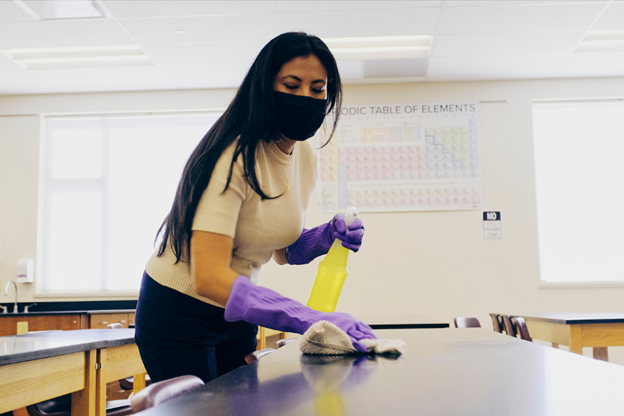 As large-scale centres of day-to-day learning, universities are home to thousands of people, including students, academic staff, security officers, administration teams, and caterers. As the global pandemic proved, vast numbers of people living and working in close proximity can be a potent haven for bacteria and viruses and, with university life now back to normal, it's more important than ever that campuses are kept in spotless condition.
At Kingdom, our professional commercial cleaning services are ideal for universities, colleges, and schools, and are guaranteed to deliver exceptional standards that will benefit your educational institution in several ways:
Lower Absences
With students and staff sharing learning and social spaces in large numbers, Covid-19, flu, and other acute illnesses can spread like wildfire, causing learners and tutors to miss crucial study days. A professional cleaning service can ensure that facilities are thoroughly sanitised of dangerous pathogens before use, killing germs and decreasing the spread of illness amongst the university population.
Increased Productivity
Learning time lost to ill-health can have a serious effect on attainment, whether a lecturer is absent from campus or struggling through teaching while unwell. By implementing an efficient and thorough cleaning regime, it is more likely that staff will remain in good health and, therefore, will be more engaged and productive when delivering lectures, seminars, and tutorials.
A Healthier Learning Environment
No-one likes to teach or learn in a dirty environment, so Kingdom's commercial cleaning can improve your university's workspaces to be more conducive to high-quality education. A clean learning environment can help maximise student learning potential because it creates a more positive ambience that supports better academic performance.
Longer Lasting Facilities And Equipment
Thorough cleaning can also help to keep vital facilities and equipment in optimum working condition, saving money in the long-term by reducing breakdowns. For example, air conditioning vents or drainage systems can, over time, become clogged with dirt and grime, causing them to perform less efficiently. If left untouched, they will, eventually, need extensive repairs to return them to their usual condition, which will inevitably result in expensive bills. A commercial cleaning company, such as Kingdom, will ensure that no area of your campus buildings is overlooked as part of a thorough and systematic cleaning programme.
Contact Kingdom To Find Out More
To find out more about our professional cleaning services for universities, colleges, and schools, please contact us today on 0330 022 9422 and our expert team will be pleased to assist you.
Image Source: Canva