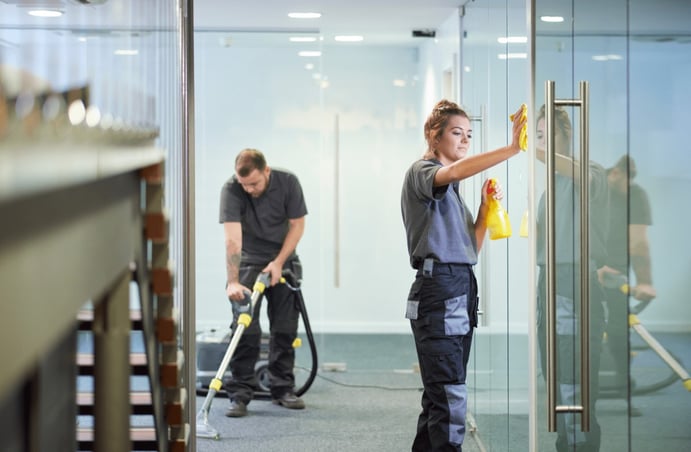 Commercial cleaning has long been considered essential in the workplace to maintain a pleasant and productive working environment. The Covid-19 pandemic, however, highlighted how regular cleaning is not always successful in killing harmful pathogens, and many businesses had to consider more effective ways to protect employees and customers from the dangers posed by bacteria and viruses.
Not every commercial premises has identical hygiene requirements. The type and depth of cleaning required in a cinema or office complex, for instance, is likely to be considerably different from a GP or dental surgery where there is an increased risk of cross-infection. General purpose sanitisation can be an effective solution across a variety of cleaning applications; however, it's important to understand the difference between cleaning and sanitising so that you can make an informed decision about which cleaning materials or service is most suited to your needs.
Kingdom's Hygiene Solution
How do cleaning and sanitising procedures differ and what impact do they have on the presence of harmful germs?
Cleaning
Cleaning is defined as the removal of dirt, dust, and impurities from objects and surfaces, such as floors, sanitaryware, and furniture.
While the process won't necessarily kill all germs, it will lessen the number of pathogens on a surface and is excellent preparation for more in-depth sanitisation. Cleaning is the best way to achieve impressive visual results and give a workspace a quick makeover.
A typical cleaning regimen uses a range of materials and solutions, such as detergent, soap, water, and polish.
Removes dirt and dust
Removes visible stains and impurities from surfaces
Does not kill all bacteria and viruses
Is the first stage of decontamination of an area
Sanitising
In contrast, sanitisation is the elimination of pathogens on a surface or object to improve public safety by lowering the risk of infection. More thorough than cleaning, sanitisation uses a range of chemicals to remove bacteria and is suitable for areas that require a higher standard of cleanliness, such as food preparation areas, office rest areas, and catering facilities.
The Sanitisation Process:
Kills and removes bacteria and viruses from objects and surfaces
Reduces the number of bacteria on a surface to a safe level
Uses specially designed chemical cleaning solutions to reduce the number of pathogens
Provides a deeper level of hygiene than cleaning alone
Contact Us For More Information
To find out more or to discuss your hygiene requirements, please contact us today on 0330 022 9422.
Image source: Canva