Schools, colleges and universities have long been a hotbed for germs, making them the perfect environment for bacteria and viruses to thrive. This is why regular cleaning is so important in education settings.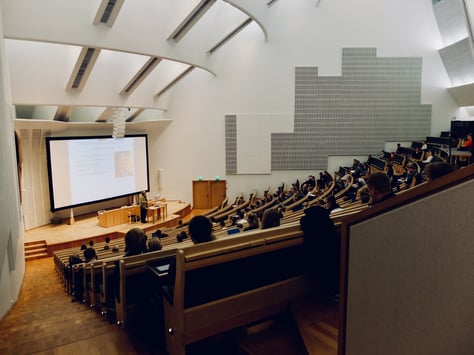 However, with high footfall, shared equipment and communal spaces to contend with, the environment can pose a challenge for cleaning operatives. And since COVID started circulating in 2020, the cleaning of education facilities has become even more complex.

Pre-pandemic, our cleaning teams would deliver one thorough clean each day, either before the students and teachers arrived, or after they had left for the day. They would also provide deep cleans during holidays. But with a contagious outbreak to manage, they now have even more on their hands.

From frequent touchpoint cleaning throughout the day, to adopting new ways of working to keep on top of hygiene levels, classroom cleaning has changed significantly over the past 18-months.

Robust response
The latest government guidance recommends that schools, colleges and universities maintain their enhanced cleaning measures, including more frequent sanitising of rooms and shared areas that are used by different groups, and cleaning frequently touched surfaces.

In line with this advice, and to instil confidence in students and teachers, our education team has developed an intense cleansing programme that delivers the highest standards of hygiene. These measures include:

1. Deep cleans and fogging of all buildings and shared areas, to ensure they are infection free.
2. Installing additional hand sanitising stations at key entry points to further encourage personal hygiene.
3. Intense touchpoint cleaning of entrances and exits, handrails and lifts, and other frequently touched surfaces at numerous intervals throughout the day.
4. Checking cleanliness levels before and after cleaning with ATP testing. This enables cleaning operatives to identify cleaning hotspots and adapt their regimes to boost efficacy.
5. Adding an anti-microbial surface protector to the cleaning regime, to provide longer term protection for sanitised surfaces. This can keep pathogens away for weeks.

Back to school
Education settings may have returned to normality this term, but that doesn't mean that cleaning should revert to its pre-pandemic ways. In fact, it is more important than ever.

Cleaning and hygiene have been crucial in the battle against COVID-19 throughout the pandemic. And as we edge towards the winter season, where other viruses and illnesses will resurface, it is vital that our cleaning efforts can stand up to these infection risks.

By keeping up our efforts, and adding in a few new techniques, such as ATP testing and anti-microbial shields, we can play an important role in keeping education settings safe for both students and teachers.