Last month marked a significant step in the UK's response to COVID-19, with most restrictions now scrapped. And while it looks likely that an element of home working will remain, very soon, millions of office workers will be back at their desks.
In fact, Rishi Sunak recently stated that physically being in the office provided invaluable benefits, suggesting that he may not have been as successful in his early career had it started virtually over the likes of Teams and Zoom.
This announcement was followed by the news that the Government wants to use the summer to 'ramp up' people coming back to the office, claiming that it is now safe to return to work.
But with infection levels still high, and many workers nervous about the prospect of pre-pandemic working environments, employers must ensure that they are doing everything they can to keep their staff, visitors and customers safe whilst on their premises.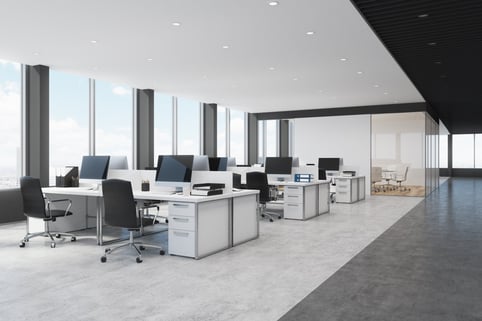 So how do we instil confidence in those who are reluctant to return?
Current guidance says workplaces should complete risk assessments and take steps to prevent transmission, including frequent cleaning. Employers must ensure they are doing all they can to reduce the risks.
Regular cleaning - Cleaning and hygiene have played a major role in curbing the spread of infection from the early days of the pandemic. As we move back to the workplace, it's vital we continue with the thorough cleaning strategies and systems we have developed. This means keeping on top of that robust daily cleaning rota.


Touchpoint sanitation - In addition to deep cleans and daily cleaning of high traffic areas, savvy businesses have complemented their strategies further by implementing touchpoint cleaning. Regular cleaning of key touchpoints, such as door handles, keyboards, lift buttons and handrails, can keep bacteria at bay.


Surface protectors and microbial shields – One innovation that we are seeing customers heavily invest in at the moment is the use of surface protectors and microbial shields. Applied after a thorough clean, these products offer extended protection from reinfection, further reducing the risk of transmission.


Test efficacy – Once a clean is complete it is vital to test its efficacy. ATP testing can help identify hot spots and highlight any areas that may need further attention. Our SAFER ATP testing regime provides data on hygiene levels by taking a swab before and after cleaning, which is then placed into a handheld device to give a reading within seconds. Our system then uses data analysis software, which allows both our cleaning operatives and customers to monitor hygiene levels at the touch of a button.


Provide reassurance - support colleagues in their workspaces by providing sanitisation materials, such as hand sanitiser and wipes to clean down their workstation. This can help keep hygiene levels high throughout the working day, in between regular cleans.
Following the above steps will not only ensure that your premises are COVID-secure, but it will also provide vital reassurance to your staff, visitors and customers that you are taking their health and safety seriously, at a pivotal point in the pandemic journey.