The security industry is a great place for women to exhibit their strengths and nurture a fulfilling and worthwhile career. In this blog, we caught up with our Head of Security Sales & Solutions, Sherrelle Blackwell, on her experiences working within the security industry.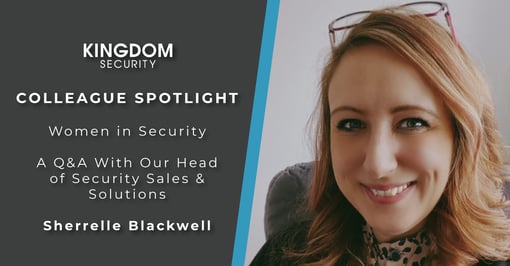 Talk us through your day-to-day role at Kingdom...
My role as Head of Sales and Solutions is a mix of routine, process fulfilment, data analysis, compliance checks, and a careful balance of selling with customer satisfaction, operational engagement, and productivity improvement every day; it is very varied.
I generally start my day with a cup of something with caffeine in it! And then try to segment my day as much as possible into achievable chunks of time where I can focus on set goals such as admin tasks, direct selling and support for clients, research & information sharing and sales analytics. Keeping a close eye on the news and market insight is very important and at the end of every day I think about process improvement and corrective measures.
What is your favourite part of your role?
I love how busy and fast paced it is – every day is different and brings new challenges. There is no time to be complacent and I am continually learning. In sales, you get to immerse yourself in every area of the business from marketing to operations. I have to say though, the times you get a 'yes' from a new client are definitely the best! Especially when you 100% know that Kingdom is going to make a difference and bring some genuine value added to the customers business – that is a real buzz.
What encouraged you to work in security?
I am an ex- teacher and in a round about way, have always been interested in the safety and security of our communities. I had not realised how wide and varied security was until I started working in the industry though. Helping people feel safe is incredibly rewarding and the mix of autonomy and teamwork suits my personality well.
How have Kingdom supported you in your role?
Kingdom have shown belief in me, for which I am very grateful. They allow me to 'test out' new ideas and are continually pushing me to be the very best I can be. Kingdom is the kind of place where you have a voice and lots of constructive discussions take place to achieve success. It is not for the faint hearted! But I am a huge believer in professional development and am driven by process and as a long-standing provider within the industry, I can turn to others for support when needed.
As a female leader, what has been the most significant barrier in your career?
If anything, it has been the opposite! Security is still a very male dominated industry, at all levels – from officers 'on the ground' to Director level. I am not sure if being female has helped or hindered me, but I have read that females tend to be more successful in sales as they have better listening capabilities, higher emotional intelligence, and collaborative skills than men (sorry chaps!)
Do you feel there is enough female role models in the security industry?
There are some amazing women in the security industry who I see as truly inspirational. I am a member of Women in International Security (WIIS) and there is some amazing work going on all around the world! The retention rate for women in security is very low and a focus on powerful female role models within security is paramount. I would love for there to be a time when women in security is not a recognised achievement but is just 'normal' and 'un-newsworthy' if that makes sense?!
You were recently nominated for the women in security award - did this make you feel recognized and empowered in your role and do you think this is something that there should be more of within the industry?
Absolutely! It was a complete surprise and I cried when I read the submission. It is always nice to be recognised but to be nominated for an award is very heart warming. I think that to recognise and honour the accomplishments, value, and contributions of women within security is incredibly important and whilst there are lots of awards within the security industry, the WIS awards are the only ones focused on females. To me, it does not matter who you work for - security issues affect us all and we cannot ensure that we, as women, feel secure in our homes, on our streets, and in our communities without actively including as many women's voices as possible in discussions about how we create security solutions.
What advice would you give to other women thinking of entering the security industry?
I would say that if you are expecting a 9-5 job, then this probably is not the industry for you! You must be organised, personable and up for putting in some hard graft whilst wearing many hats. However, the job outlook for many careers within the security industry is good. An increase in security risks such as terrorist attacks and other violent criminal activity has created an increased need for security workers and future career opportunities seem stable. In what has been unforeseen times for many industries, security has remained strong and needs strong females to support it.