With many years' experience in the retail security industry and having worked with a number of retail clients, we know just how important it is to provide an excellent customer experience, whilst ensuring the safety of both customers and staff and making sure safety and emergency procedures are followed at all times.
Retail security is a very specific type of service provision, as it operates within an environment that poses a wide range of challenges. Therefore, this type of service requires the need for a specialist organisation, with a quality team of security staff in place to combat crime hotspots and provide innovative methods of loss reduction.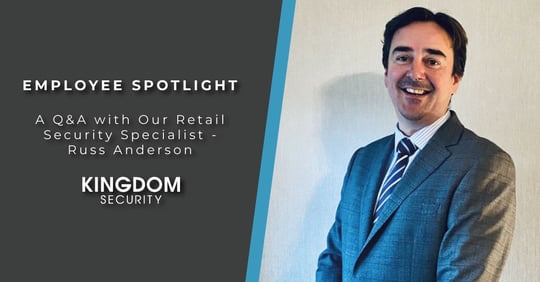 We caught up with our Retail Security Specialist, Russ Anderson, on his knowledge and experiences after many years working within the industry:
Can you tell us about your background in the retail sector?
I started working in Retail at the age of 16 as a part time Grocery Assistant, with no intention of having any sort of career in the industry. 17 years later I was still there, before stepping into the security sector. I held many roles within retail, such as Supervisor, Dept Manager, Duty Manager, Refit Co-ordinator, each one gave me a different set of skills which I have been able to transfer and develop throughout my working life.
What do you enjoy about working in the retail sector?
Working with the general public is the best and sometimes the most challenging aspect of working within retail, the old phrase of no two days being the same is definitely true.
What are the challenges?
From a Security view, retail has changed considerably, from the old days of a guard being provided to a store because it was perceived to be in an area of high crime, or to support colleagues following an incident at the store, the industry has certainly moved on at pace. Intelligence lead deployment and the development of technologies such as Smartwater, Gesture Recognition Technology, and data analysis have changed the model for all retailers to help them achieve their goals of colleague safety, public safety, and protection of assets.
What sets Kingdom apart within the retail sector?
What I've seen within Kingdom is a passion for retail and real understanding of what the customer wants to achieve and an ability to be flexible in our working practices to partner with them on their journey, to introduce and recommend practical solutions that will enhance their return on investment. The people who manage the retail contracts are passionate about what they do, and it shines through.
What does the short and long-term future look like for retail security?
Retail Security is changing, with the Police unable to prioritise retail crime as they have in the past, even more emphasis and reliability is falling on Security providers, and as one of the industry leaders it is our job to continue to evolve and enhance our solutions for them.
To find out more about our expert retail security solutions, please get in touch with our Head of Sales in Security, Sherrelle Blackwell, or visit: https://l.kingdom.co.uk/request-a-security-quote-1.