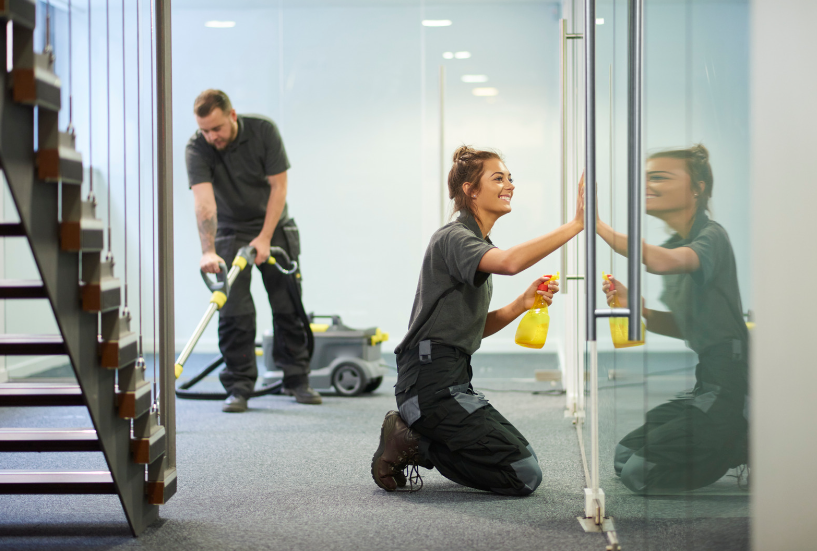 All business premises need regular cleaning, but it can be difficult to decide whether it's better to hire your own staff or outsource to a commercial cleaning company. In-house cleaning teams work directly for you, so you'll have to recruit, train, and manage staff as well as order equipment and materials. Outsourced cleaning companies provide the workers on your behalf and assume responsibility for their contracts of employment.
In this article, we'll discuss the benefits of outsourcing cleaning services compared to in-house staff.
1. Stay Healthy, Stay Compliant!
Slips, trips, and falls account for approximately 40 per cent of major injuries in the UK's workplaces, often occurring because of a disregard for basic health and safety regulations. While a fall may sound innocuous, each incident accounts for an average of 8.5 days of lost work time, with ligament damage, fractures, and head injuries among the serious injuries that may come as a result. Hiring an outsourced cleaning service ensures that only staff trained in health and safety attend your premises, with access to the latest cleaning techniques and technologies – making preventable slips and trips a thing of the past.
2. Service When You Need It Most
An in-house cleaning team will usually work set hours, with little flexibility to alter these at short notice. In contrast, an outsourced provider will often be able to change or increase their hours according to the needs of your business, so you can be reassured that your premises will always be kept in pristine condition, no matter what else is going on.
3. Minimise Downtime
Asking your own staff to clean the premises may seem like a sure-fire way to cut your cleaning bill, but your company will suffer because of plummeting productivity. Your team should be encouraged to do what they do best which, in most cases, won't be cleaning the workspace. Hiring an outsourced cleaning service will free your staff from the time-consuming responsibility and allow them to focus on their duties instead.
4. Benefit From Flexible And Scalable Contracts
There may be occasions when you'll need to increase the amount of time cleaners spend working in your office, so the flexibility to scale up or down in response to evolving needs is invaluable. For example, if an outbreak of illness occurs among your team it would be worth increasing the duration and depth of cleaning until staff absence rates return to normal. Outsourced cleaning companies have greater flexibility to scale up their service in response to changing circumstances, by calling in additional staff or extending working hours to ensure the job is completed thoroughly.
5. An Affordable And Effective Service
When you hire in-house cleaners, you'll be responsible for investing and maintaining equipment, purchasing cleaning agents, hiring staff, and paying pensions, holidays, and other benefits. Outsourcing is invariably cheaper overall, and you'll also benefit from the expertise of a business that's been cleaning premises like yours for many years.
Contact Us To Find Out More
For more information about Kingdom's commercial cleaning services, click here to get in touch or call us today on 0330 022 9422.
Image Source: Canva