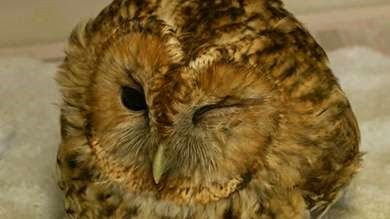 Kingdom gatehouse staff played a vital role last week in helping to rescue and look after a young trapped tawny owl.
The owl flew into the path of a car and became trapped after getting its head stuck in the roof rack of the vehicle. The driver did not realise that the bird was in the roof rack and the poor creature was then taken on a 10 mile trip from Sutton Coldfield to Dordon in north Warwickshire at around 50mph.
It was only when the car reached the Birch Coppice Business Park in Dordon that the owl was discovered trapped in the roof rack. Kingdom's gatehouse staff at the business park helped to free the owl and contacted staff from Nuneaton and Warwickshire Wildlife Sanctuary for help.
The owl was named Birch after the business park, and spent some time in a box nestled down in the gatehouse using a Kingdom polo shirt as bedding before staff from the wildlife sanctuary arrived on site to take care of the owl.
Birch was found to be suffering from concussion but thankfully had no serious injuries. Birch is believed to be about one year old. Geoff Grewcock from the wildlife sanctuary said:
"The owl has been flying pretty low and he's gone into the railings of the vehicle. He has probably just clung on for dear life. It's pretty common behaviour for these birds. Tawny owls are known for it – they fly into anything. They are so awkward. He is suffering from concussion – that's why his eyes are closing. We are going to try to get some fluids down him and give him rest."
Mr Grewcock expected Birch to be released back into the wild sometime after he had recovered fully, which was expected to take about 48 hours. The BBC reported on the 9th February that Birch has now fully recovered and was due to be returned to the wild that day.
The story was reported on the BBC News website, the Mirror, and a whole host of other news sites, and a clip of the news story can be seen on BBC Midlands Today's Facebook page.
Kingdom was established in 1993 and operates nationally. Commercial and service strength supported with organic and acquisition growth has seen Kingdom become one of the largest privately owned companies in the UK within their areas of service expertise. They specialise in risk, loss and the protection of property, people and brand. To find out more about Kingdom, go to http://www.kingdom.co.uk/