Shopping centre Security Officers maintain the overall safety of the shopping centre and everybody there. Their day to day tasks mainly revolves around helping to deter trouble and ensure a positive customer experience. They will patrol the premises, check surveillance equipment, and remove anybody from site who may pose a threat, whether that is inside the store or out on the car park. They will also assist during an emergency and get in touch with law enforcement when required. It is their duty to create a peaceful and safe environment for not only the visitors, but the staff too.
Shopping centres are often busy, bustling places. They are an easy target for criminals because they can easily blend into the crowd after they have achieved their intention. With so many people visiting the centre each day, it is vital that the correct security measures are in place. These measures can include CCTV cameras and security guards. Without these measures, detecting any criminals would be near enough impossible.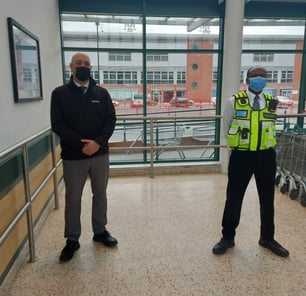 The Grocer found that a staggering £503 million is lost every year to shoplifting, which is also likely to be a "significant underestimate". Due to theft, the convenience sector is costed 7p for every transaction, which is equivalent to £193 million a year. But it's not only theft that store owners are worried about. They are also worried about the impact on their staff. According to an ACS report, in 2018, reported violence against staff doubled to six victims per 1,000 workers. They recorded 13,437 incidents of violence directed at staff in just one year. 39% of these incidents resulted in injury and a weapon was used in a shocking 3,690 instances.
By implementing security measures at a store, such as Security Officers, they will act as a visual deterrent. By having a visual presence on the premises, it encourages a feeling of safety for both staff and visitors. This method will help to deter trouble and provide more of a positive customer experience overall. They will continuously patrol your store, whilst keeping their eyes peeled for any suspect behaviour. They are able to recognise any blind spots where theft could potentially occur, as well as noticing unusual behaviour amongst certain visitors.
Methods for theft are becoming increasingly complex too with 'professional' criminals targeting poorly secured stores as a main tactic. The most 'successful' criminals are going to great lengths to conceal high value items amongst their person which takes an acutely experienced officer to detect.
Security Officers are experienced in ensuring a risk-free environment, which puts people at ease. Should a theft or another form of incident take place, the security officer will jump into action immediately and will also interact with police and the emergency services for pro-active security. S.C.O.N.E is an acronym used in retail security to assist loss prevention staff in how to handle a suspected shoplifting. It stands for 'Selects, Conceals, Observed, No attempts to pay, Exits store'. The purpose of S.C.O.N.E is to ensure that security staff only detain a person when they are 100% certain criminal activity has taken place.
Investing in a reliable security service is highly important for the safety of your assets, your staff and your visitors. When looking for a security company to work with, you should always make sure that they have undertaken extensive background checks. They should be experienced and skilled individuals, who have the ability to provoke action when required.
At Kingdom Security, we offer a range of security solutions, including highly skilled security officers who will conduct regular foot patrols, mobile patrols and key holding and CCTV monitoring systems. Our core security solutions are extensive, but always tailored to your needs. If you'd like to find out more, please get in touch with our Head of Sales in Security, Sherrelle Blackwell, or call 0845 051 7700.