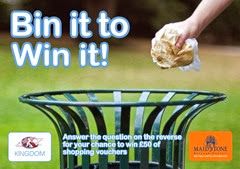 The annual cost of cleaning the UK's street is estimated to be around £780 million. To combat this, Kingdom provides an Environmental Enforcement service which includes tackling street litter and dog fouling. Our mission is to make our environment cleaner, safer and greener.
Our specialist teams issue fixed penalty notices to offenders breaking the 1990 Environmental Protection Act in streets, parks and open spaces. We act on behalf of local authorities to reduce anti-social behaviour.
As part of this service, Kingdom has an anti-litter campaign called "Bin It to Win It", which aims to reward members of the community who display environmental awareness, rather than just punish those who don't. It also aims to educate the public about environmental awareness. Under the scheme, members of the public are rewarded for using litter bins to dispose of their rubbish, as opposed to just dropping their litter and waste on the ground.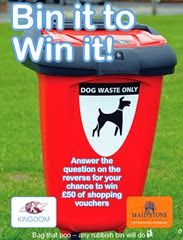 The way the scheme works is very simple. When Kingdom's Enforcement Officers are patrolling a given area and they observe a member of the public dispose of their litter appropriately, they approach the individual, praise them for their diligence and obtain their details to enter them in to a monthly prize draw to win either £50 worth of High Street or E-Vouchers which are ethical green rewards. The process involves answering a question about the environment, which helps educate and raise awareness.
Whilst the primary function of Kingdom's Enforcement Officers is to enforce existing Environmental Legislation, they are also there to educate and acknowledge those members of the public who display environmental awareness by using litter bins and smoking receptacles.
This scheme has been implemented and funded by Kingdom. The initiative is being used at Birmingham City Council, City of Enfield Council and Maidstone Borough Council and has so far been very successful.
For more information about our legal and enforcement services, please take a look at our website.