Kingdom is delighted to say that we have recently had 3 safety accreditations renewed – CHAS, Contractor Plus and SAFEcontractor.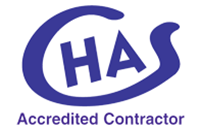 We are a CHAS Accredited Contractor. CHAS stands for the Contractors Health And Safety assessment scheme. It has an annual assessment cycle. It aims to improve Health and Safety standards across Great Britain, and to reduce duplicated safety applications for both suppliers and buyers. It is the largest health and safety assessment scheme in the UK.
CHAS assesses contractors and consultants (suppliers) that apply for work with public and private sector organisations (buyers). It has over 570 buyer members and over 50,000 suppliers on its database. Suppliers need to meet buyers' health and safety standards – but to assess whether they do or don't is a lengthy and time consuming process. CHAS assesses suppliers' organisation for health and safety, their health and safety policy statement, and their specific health and safety arrangements to a standard acceptable to CHAS buyers and to others.
Our latest CHAS accreditation is valid from 8th August 2013 for one year. To learn more about CHAS, click here to visit their website.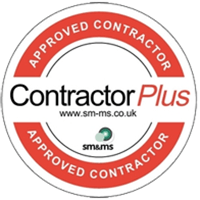 We are a ContractorPlus Approved Contractor. ContractorPlus is provided by sm&ms Consulting. It provides clients with a robust contractor health and safety pre-qualification system.
Their Health and Safety Consultants deal directly with contractors like Kingdom to check our health and safety documentation including risk assessments, polices, method statements and insurance levels.
This means that we are vetted to ensure our health and safety standards are of the highest quality.
Our latest certificate is dated 3rd September 2013 and will expire on 2nd September 2014.
Click here to read more about ContractorPlus.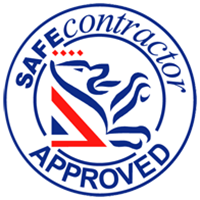 We are safecontractor approved. safecontractor is a leading and the fastest growing health and safety pre-qualification assessment scheme in the UK.
It is dedicated to promoting higher standards of competence and compliance. It has more than 200 major clients and over 18,000 contractor members.
It is used by many large organisations to obtain competent contractors. It assesses the Health & Safety competency of contractors and service providers.
Our certificate is valid from 9th August 2013 until the 8th August 2014. To visit the safecontractor website, click here.