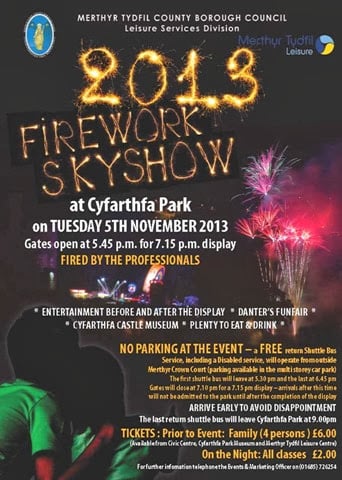 Kingdom Security was delighted to provide an event team to help out at Merthyr Tydfil's fireworks night on Tuesday 5th November. Our event and close protection teams provide specialist operatives to ensure the safety and security of our clients, and to make sure that itineraries run to plan.
Merthyr Tydfil County Borough Council's Leisure Services Division held their annual Firework Skyshow at Cyfarthfa Park on Tuesday 5th November 2013 – an event which was listed in The Guardian's Top 10 Bonfire Night celebrations in the country. The gates opened at 5.45pm for a 7.15pm start. The fireworks displayed lasted for 30 minutes. The event included entertainment before and after the fireworks display, plenty of food and drink, Danter's Funfair and access to the Cyfarthfa Castle Museum and Art Gallery. Over 5,000 people attended the event, which was Merthyr Tydfil's most well attended fireworks event to date. Entry cost only £2 per person, or £6 for a family of four.
We were delighted to receive an email the following day from Merthyr Tydfil County Borough Council saying "May I take this opportunity to thank you for your help at such short notice and confirm that your efforts went a long way to ensuring that the show went off with no major problems".
Kingdom provide support to ensure that itineraries run to plan and that the long days and sometimes overwhelming list of tasks can be accomplished with as much ease as possible. We do all we can to ensure our customers receive the highest possible standards of hospitality, care, practical and moral support at every moment of the day and night. Our services include close and VIP protection, crowd management and stewarding teams and consultancy advice. For more information about how we can help to make your event run smoothly, click here to visit our website.