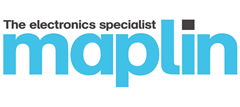 Kingdom is delighted to have secured the contract to provide assisted alarm response services to all of the Maplin Electronics stores in the UK and Ireland. Maplin Electronics is the UK's biggest specialist retailer of consumer electronics. They have over 200 stores across the two countries.
The company was established in 1972 as Maplin Electronic Supplies by Roger and Sandra Allen and Doug Simmons, technology enthusiasts who were frustrated by the lack of quality electronic product suppliers. The company was originally a mail order business which operated from a bedroom in the Allen's home in Essex. Their initial 28 page catalogue soon increased to a 216 page catalogue, and in 1975 the first store opened in Westcliff-on-Sea, with a second store opening in Hammersmith later that year. The mail order business operated above the Westcliff-on-Sea store until the business outgrew it, and they soon had to purchase a warehouse nearby. The rise in the use of technology and of computers in particular in the 1980s helped Maplin to grow, and in 1989 they opened a national distribution centre in Wombwell , Yorkshire, moving to Rotherham in 2007. The company now sells over 15,000 different products from MP3 players and Sat Nav systems, to digital cameras and Wi-Fi connectors, across 10 different departments.
Kingdom provides a complete UK wide, fully insured commercial and domestic key holding and alarm response service. This protects your staff from unnecessary risk, and instead means that our trained response team respond to your premises in a fully equipped, company branded vehicle. Your premises will be inspected according to any specific attendance instructions. Our response personnel are Security Industry Authority (SIA) licensed, uniformed and trained, and are local people with local knowledge.
For more information about how we can help you with our key holding and alarm response service, please visit our website.