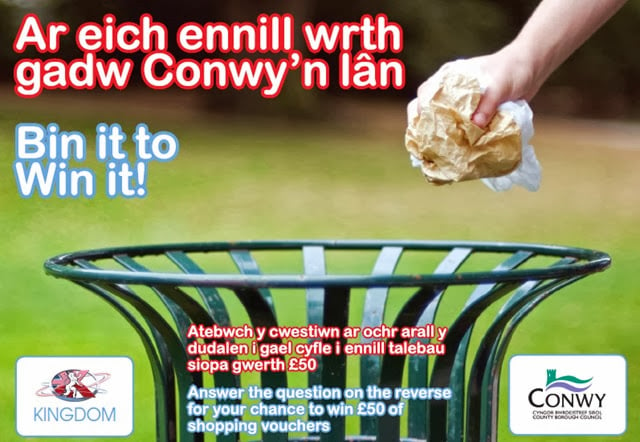 A new scheme has been launched in Conwy County Borough to encourage everyone to dispose of their litter responsibly.
'Bin it to Win it' is an initiative introduced by Kingdom Security who work with Conwy County Borough Council to tackle littering and dog fouling.
The scheme will give members of the public a chance to win £50 in local shopping vouchers by simply putting their litter in a bin. Whilst on their regular patrols, Kingdom Security Enforcement Officers will hand out an entry form for the monthly prize draw to anyone spotted disposing of their litter responsibly.
Councillor Philip Evans, Conwy's Cabinet Member for Regulation explained: "Tackling littering and dog fouling offences continues to be one of the Council's top priorities. This type of environmental crime is taken very seriously and anyone caught littering or allowing their dog to foul and failing to clean up will be issued with a £75 Fixed Penalty Notice, but we realise it is just a minority of people who behave in this way and so we are happy to support Kingdom's efforts to reward people who act responsibly."
Councillor Mike Priestley, Cabinet Member for Environment said: "We spend around £2.5million every year on street cleaning in Conwy County Borough. If you pick up after your dog and you don't drop litter then you shouldn't have any concerns about the enforcement team. The message is simple, dispose of litter and dog mess by using the bins provided."
Steven Gillespie, Head of Legal and Enforcement for Kingdom Security said, "The Bin it to Win it scheme has been hugely successful in three other counties, so we thought we'd launch it here in Conwy. It allows Kingdom, in partnership with Conwy County Borough Council, to demonstrate our commitment to acknowledging and rewarding members of the community who display environmental awareness.