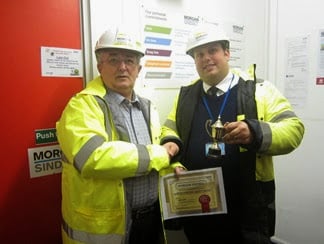 Kingdom would like to congratulate Simon Law, a day shift officer at Woodside Primary School in South Lanarkshire, for winning Morgan Sindall's Monthly 100% Site Safety Award.
Simon was given this award for his contribution towards safety awareness on site and for his proactive implementation of the site security rules and procedures. Commenting on the award, a spokesperson from Morgan Sindall said: "Simon has worked extremely hard since starting on the project, always showing a positive attitude towards all aspects of his role and is a key team player".
Morgan Sindall is one of Kingdom's clients and is a leading UK construction and regeneration group which operates in both the public and commercial sectors. They are currently demolishing the old Woodside Primary School and building a new one as part of South Lanarkshire Council's Schools Modernisation Programme. Kingdom is providing manned guarding services for them at the construction site.
Kingdom's people drive their success. Kingdom wants their people to achieve great things and be rewarded for their efforts and a job well done. Kingdom adds value to your business by securing, deploying, training and retaining the right people and supporting our contracts with regional offices and a wealth of local and national management expertise. This has resulted in Kingdom having one of the most loyal, well trained and thoroughly professional workforces in the industry.
Kingdom's dedicated civil engineering and construction team has extensive experience and an in-depth understanding of the construction sector. They have over 20 years industry experience and are the largest privately owned security company in the UK. For more information about Kingdom's construction services, please click here to visit their website, and here to read their online Civil Engineering & Construction Sector brochure.
Photo: Project Manager Tom Blair (left) and security officer Simon Law (right).