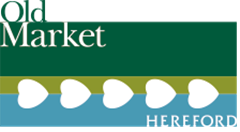 Kingdom Clean are delighted to announce that they have begun providing cleaning and support services to the brand new Old Market Shopping Centre in Hereford, the first major retail development in Hereford for 25 years.
The first stores, including Waitrose, Debenhams and TK Maxx, opened for business on 1st May. Developer Stanhope said the centre will deliver 18 big name retail brands, eight restaurants and a six-screen Odeon cinema, which is due to open on 22nd May.
The £90million shopping centre initially had its original opening delayed until 9th May due to exceptional weather hampering building works. However, the opening was then brought forward to the 1st May. This caused Kingdom Clean some difficulty in terms of staff recruitment and the mobilising of pre-clean teams, but with meticulous planning and by working closely with the shopping centre's management, Kingdom Clean was able to have the Old Market Shopping Centre prepared and ready for its first day of trading.
Following the opening, a delighted client complimented the Kingdom Clean teams for their hard work and effort, saying:
"I know that this has probably been said already but I just wanted to pass on my personal thanks to you and your teams for helping us get Old Market open on time last week.
"I'm sure you'll agree it was extremely challenging but we were complimented by both our client and the developer for our 'can do' attitude which went a long way to getting things up and running. Ultimately it was a monumental team effort but with everyone pulling together we delivered an opening day which surpassed expectations.
"Please would you pass on my thanks to your teams and I look forward to seeing you soon (in slightly less stressful circumstances!)"
Peter Simpson, Operations Director for Kingdom Clean, said he was extremely proud of his management team and staff. "They have once again pulled out all the stops to turn what had been a building site just two weeks previously into a pristine looking shopping centre which the town of Hereford can be proud of. My operations team never ever let me down and are a credit to the company, working long hours and weekends to achieve incredibly high standards on behalf of our clients".
Kingdom Clean provide supervisor or site-managed commercial cleaning and maintenance services for leisure, transport, public and commercial circulation. Kingdom are committed to using the best people, technologies and products to provide a leaner, smarter and more connected organisation to enhance companies performance, providing results which they can measure and control.
For more information about Kingdom's site managed commercial cleaning and maintenance services, please visit http://www.kingdom.co.uk/services/commercial-cleaning/ or go to http://www.kingdom.co.uk/Brochure/CommercialCleaning/index.html to view Kingdom's Site Managed Commercial Cleaning & Maintenance Services online brochure.