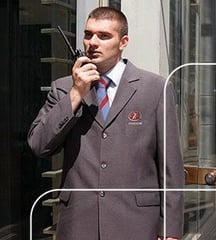 Kingdom has been made aware of an increase in businesses being targeted for delivery theft in London. Quite simply, delivery drivers are being distracted whilst the goods they are delivering are being stolen.
This type of crime doesn't just affect businesses in London, it happens throughout the UK. It is therefore important that delivery companies, security guards and employees are always vigilant whilst making and receiving deliveries, but particularly at the current time.
If you spot an individual or group of individuals looking at a delivery van or acting suspiciously, you should note their registration number, make sure you keep any CCTV footage, and report the incident immediately to your local police team by calling 101.
Kingdom provides security to a wide range of businesses across London and throughout the United Kingdom. Established in 1993 to influence and inspire the security marketplace, Kingdom specialises in risk, loss and the protection of property, people and brand, and is one of the largest privately owned national security companies in the UK. For more information about Kingdom, click here to visit their website.